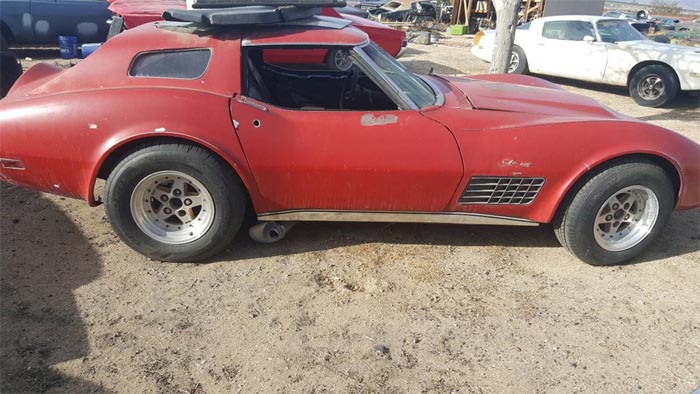 I was trying to come with a witty way to kick off this post, but came up empty. I'm not sure that I've got the correct words in my arsenal to accurately describe this one. Now I love a good old school vette wagon as much as anyone, but I just can't quite wrap my head around this one.
Anyway, if you're looking for another unique Corvette project that isn't a Centurion then this one might be right up your alley. The NCRS crowd will want to look away now.

This modified 1972 coupe is currently up for sale on the Los Angeles Craigslist. The listing doesn't give a lot of information, but the details there appear to be honest best we can tell. The body was modified at some point adding a pseudo wagon effect out back including an integrated continental kit. The seller simply states "Needs fiberglass repair to undo some weird continental kit added to it a long time ago." I agree. Up front there's a small grill protrusion between the recessed headlights that makes the car oddly look like a fox. What would the fox say to that?

In addition to the obvious bodywork needed the seller does state that the car runs and drives and has new tires and brakes. The new owner will have to deal with a broken windshield, some frame rust, and a trashed interior in addition to all the other work needed.
Asking price is $5,000 which really isn't all that far out of line for a basket case 72 Corvette that runs and drives. Parts are readily available which would make this a great restomod candidate or even take it back to stock. Either way it'd be a great project and even better conversation piece.

Source:
Craigslist

Related:
Unicorn 1971 Corvette Wagon Offered in Texas Estate Sale
Custom LT5 Powered 1955 Nomad Wagon is the Coolest Car at Barrett-Jackson's Northeast Auction
Corvettes on eBay – Chuck Miller's 1971 Corvette SportWagon