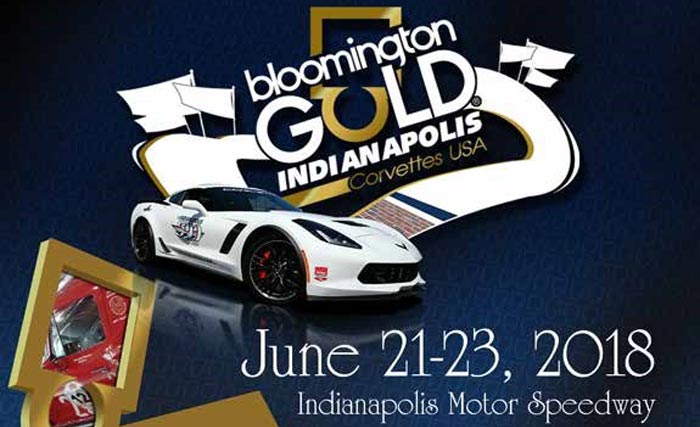 Even though the calendar just clicked over to January, it's never too early to start thinking about the summertime car show season. As we type this article the official Motor City Bureau thermometer reads 9 degrees and there's about 6 inches of snow on the ground outside. That means we should turn our attention warmer weather and Corvette shows!
A clear sign of warmer days ahead is the opening of registration for Bloomington Gold 2018. This year's show takes place June 21-23 once again at the Indianapolis Motor Speedway and registration open today.
All of the usual halo events will take place again including Certification, Survivor and Benchmark judging. The annual road tour will travel 20miles from the track to downtown Speedway for a block party. You can also participate in the popular track events like GoldSpeed, GoldLaps, the Gold Autocross as well as the Chevrolet Ride and Drive. The Goldfield Corvette-only parking, GoldMine Corvettes for sale, Gold Market vendors, and Gold Year (featuring 1968 Corvettes) events all return as well.

The L88 Explosion will take place at this year's show picking up where 1988's Earthquake 88 and 2008's L88 Invasion left off. Bloomington Gold plans to have 50 examples of rare L88 Corvette for our perusal. Also new for 2018 is the Friday night cruise to Monument Circle in downtown Indianapolis featuring Corvette-only parking while you take in the city.
Bloomington Gold 2017 will take place Thursday, June 21st – Saturday, June 23rd at the world-famous Indianapolis Motor Speedway in Indianapolis, Indiana. Single-day passes are $25 and 3-day passes are $60. All tickets include parking. Kids 12 and under are free.
For more information on the show check out www.bloomingtongold.com or give them a call at 309.888.4477.

Source:
Bloomington Gold

Related:
[VIDEO] CorvetteBlogger Hits the Brickyard for the Driving Events at Bloomington Gold
[PICS] The 2017 Gold Collection at Bloomington Gold
[PICS] The 2017 Bloomington Gold Corvette Show