Photo Credit: Bob Franasiak

Thanks to the generosity of Mike Yager and his family, four very historically significant Corvettes will be on display to the public at the Buffalo Transportation Pierce-Arrow Museum in Buffalo, New York.
Ironically, they will be the first Corvettes in the museum's collection and together are worth an estimated $6.3 million.
"I'm pinching myself," said James T. Sandoro, founder and executive director of the museum. "It's the largest donation we've ever received. We've had fabulous cars donated, but nothing like this."
The Corvettes are: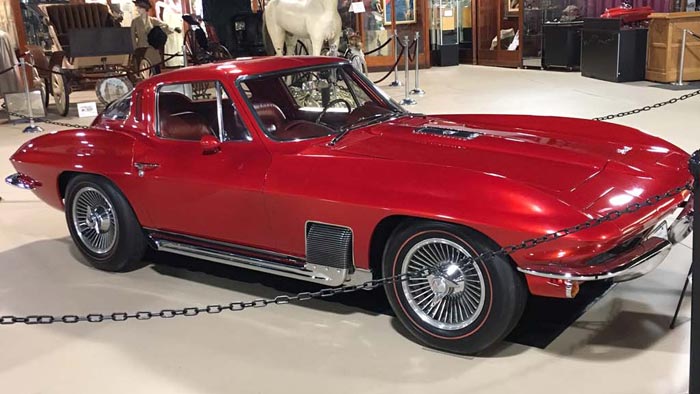 1964 New York World's Fair Mitchell Styling Corvette that includes fuel injection, enlarged front grille, large side exhaust, dual sport side-view mirrors, hood cut-out for raised fuel injection and 15 coats of candy apple red lacquer paint with matching interior.

1964 Corvette Styling Car specifically built for Chevrolet general manager and native Buffalonian Semon E. "Bunkie" Knudsen. Special features include custom-cast grille, unique front bumper treatment, custom high-back bucket seats and all-white leather trim.

1962 Corvette #69 SCCA National Champion. This red racing car with yellow accents boasts a powerful, fuel-injected engine, heavy-duty brakes and special 4-speed transmission. The car retains its originally fabricated race modifications, including rollbar, exhaust system and oil cooler.

1969 Elliot Forbes-Robinson #8. One of six factory-built L-88 lightweight Corvettes, this racing car went speeds of 200mph at Daytona and won 46 of 49 starts in its heyday using a motor built in Tonawanda.
Sandoro said the Yager family – owners of Mid America Motorworks, a large supplier of after-market Corvette parts – wanted the cars to be shared with the public rather than be hidden away by a private collector.
Sandoro believes the cars will draw a lot of Corvette enthusiasts to the museum.
"We think 8,000 to 10,000 Corvette fans a year will come down," he said, including Canadians he expects to come from southern Ontario. "Corvette clubs will come with their cars or take buses to stay overnight."
A reader of CorvetteBlogger visited the Pierce-Arrow Museum and sent us these photos of the four Corvettes in their new home. Thanks again Bob!

Source:
buffalonews.com
Photo Credit: Bob Franasiak
Related:
General Motors Just Bought CERV 1 at Barrett-Jackson for $1.32 Million
[PIC] Mid America Motorworks' Mike Yager Picks Up a New Corvette Z06
Join Mid America Motorworks for a Day at the Drag Strip on May 13th