It's time again for the Win Dale Jr.'s Ride raffle, which kicked off sales for the seventh year at the beginning of this month.
Response has been so good in the past that the Dale Earnhardt Jr. Foundation has increased the number of ticket available this year by 2,000 to 10,888 tickets.
"The Corvette raffle has been an incredible fundraiser for The Foundation for quite a while now," Dale Jr. said. "Our fans have really supported this initiative to help it become what it has. We"re excited to increase the number of tickets this year and the opportunity that will provide us to raise even more money to support all of our charities that we work with."

This year's Grand Prize is a 2017 Corvette Grand Sport Coupe with the 3LT and Heritage packages, including the 6.2-liter V8 engine, 8-speed paddle shift automatic transmission, exposed carbon fiber hood insert and dual roof package, and Chevrolet MyLink radio with navigation.
Best of all, the taxes on the Corvette Racing Yellow car with black interior will be paid by The Foundation, and even better, Dale Jr. will present the car to the winner.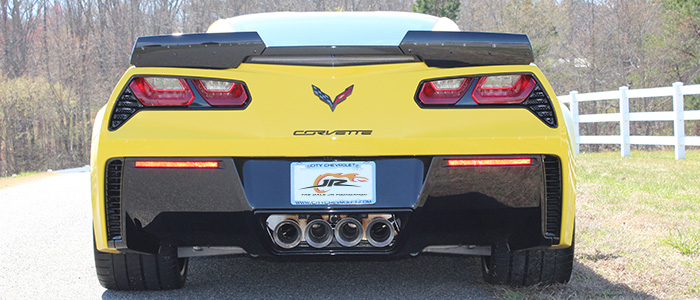 In addition, The Foundation will support charities in the winner's hometown with a portion of the proceeds.
Second prize will allow the winner and a guest to be honorary pit crew members on a JR Motorsports team at the 2018 NASCAR Xfinity Series event of their choice, including pit/garage access, hauler tour, pit box tour, VIP gift bag, and travel expenses.

Third prize will be pit/garage access and travel expenses for two to the May 2018 NASCAR Xfinity Series event at Charlotte Motor Speedway, plus a $200 shopping spree at JR Nation.
"We are so excited to have the chance to offer this program again this year," said Kelley Earnhardt Miller, general manager of JR Motorsports and vice president of TDJF. "Chevrolet has been an outstanding partner in this program, and the Corvette Grand Sport Coupe is an amazing vehicle.
Having such a grand prize does so much to promote awareness of The Foundation and give underprivileged individuals a chance to improve confidence and education. We've raised more than $1 million over the life of this raffle, and that has enabled us to do so much for so many."
Raffle sales will end on Sept. 29, 2017. For more details, visit www.windalejrsride.com.

Source:
Dale Jr. Foundation

Related:
[PIC] Dale Jr. Adds a 2017 Corvette Grand Sport to His Collection
Win Dale Jr.'s 2015 Corvette Stingray
Three-Time Cancer Patient Wins a Corvette Stingray from the Dale Jr. Foundation