Last year Genovation GXE's all electric C6 Corvette Z06 performed a record breaking top speed run on the former Space Shuttle's runway at Cape Canaveral, hitting a top speed of 205 MPH.
Now they set their sights on reaching 210 MPH, but gaining that extra 5 MPH is going to require a new car.
So Genovation's CEO Andrew Saul went shopping for a new Corvette and does what many knowledgeable Corvette buyers do. He turned to the nation's #1 Corvette seller, Mike Furman at Criswell Chevrolet to purchase a 2017 Corvette Grand Sport.
In a video on Mike's Corvette Furman facebook page, Andrew details some of those plans for the new Corvette:
"We're getting ready next week to take it up to Michigan to have it converted to the world's fastest street legal electric car. It will have a beautiful new front fascia, rear fascia, hood, side mirrors and possibly rocker panels, and its going to be absolutely stunning…super high performance…highest performing street legal electric car in the world."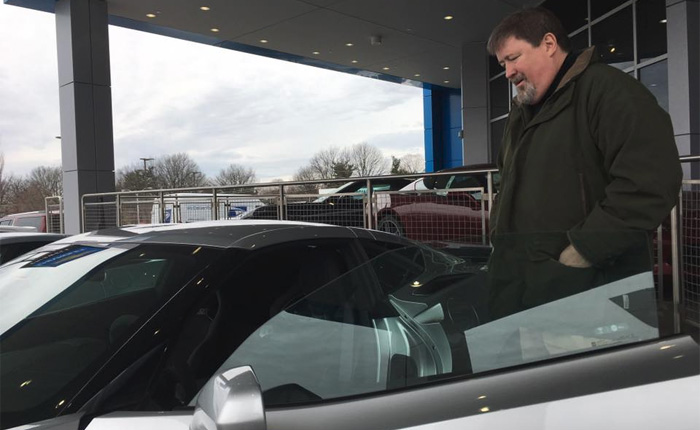 Andrew says the target for making another run with the new Corvette Grand Sport at Kennedy Space Center will be in Mid-November of 2017.
The Blade Silver Corvette Grand Sport ordered by Genovation is a base 1LT model and is optioned with the Z07 Performance Package and Competition Seats. We're sure the Z07's Brembo carbon ceramic brakes will come in handy for stopping the Corvette's 200+ mph run!
Here is Andrew talking with Mike Furman about the soon-to-be highest performing street-legal electric car in the world:

Source:
Corvette Furman

Related:
Genovation to Build a Fleet of 200 MPH Electric Corvettes Costing $750K Each
[VIDEO] Genovation GXE Breaks 205 MPH with Electric Corvette Z06
[VIDEO] Genovation's Corvette Sets Top Speed Record for an Electric Vehicle