The topic of a mid-engine Corvette has heated up again recently so it was quite timely that we stumbled across this project car on the interwebs last week. Simply put, this is possibly the wildest custom Corvette we've ever seen. We just wish there was more of it left to take in.
Hobby Car Corvettes in Martinsburg, PA brings us this unique Corvette for our perusal. Not too much is known about this former ISCA show car. We did a google search and all we came with was a classified ad from 2003. Back then the asking price was $10,000. Hobby Car's listing doesn't mention a model year, but the old listing calls the car a 1977.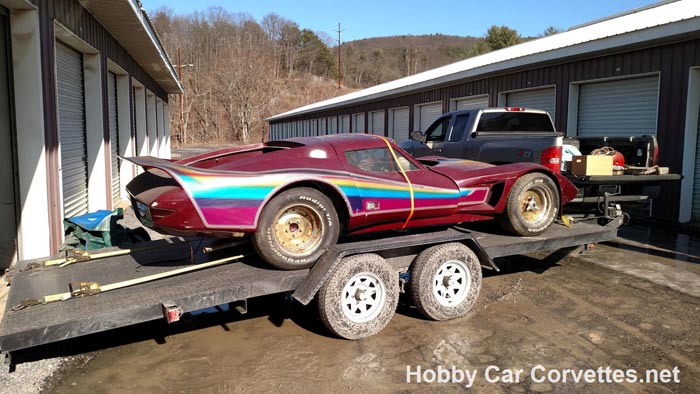 We do know that it's called "Saten's Wing" and was a staple on the ISCA show circuit (World of Wheels, Autorama) back in 1984. As you can see there's not much left of this third generation Corvette. The engine now sits behind the seats mounted to an Oldsmobile Toronado transmission. That current powerplant is small block Chevy (missing many bits), but it was powered by a twin turbo Chevy 350 during its car show years. The show photo below was taken in London, Ontario.
To our eyes it appears that no part went unmodified during this build. The windshield and rear clip were chopped 3 inches. The firewall and roof lost 6 inches. The undersides of all the body panels and the frame have been molded smooth and custom painted. Just take a look at some of the detail in the photos below. Overall height is 37 inches. That's lower than the original Ford GT40. Like many famous super cars it's got gullwing doors.

Inside it's got an in a dash TV (presumably for Knight Rider or A Team reruns) and a computer in the center console. The shifter from hangs the center roof bar between the doors. The listing says it molded fiberglass lay down seats, but those look to have been replaced as some point with something a little more plush.
This Corvette treasure could be yours for $1,999 and is sold on a bill of sale only. Looking at the photos it appears that the car needs everything from motor to paint to interior. A restoration looks to have been started at some point in time and then never completed. That $2k cost is probably reasonable when you consider that virtually anything you need for this car will need to be hand fabricated from scratch. It's not likely you'll be calling any of the major parts housed like Mid America or Corvette Central ordering parts for this one. No matter what, whomever takes on this project will have their hands full.
Do you remember this Corvette? Did you see it at a show? Got some old photos? If so, drop us line at [email protected] or contact Hobby Car Corvettes directly via email at [email protected] or by phone at (814) 937-4941.

Source:
Hobby Car Corvettes

Related:
[VIDEO] Custom 1960 Corvette Nicknamed 'Revenant' at the 2016 Detroit Autorama
[PICS] SEMA 2015 – 1963 Custom Corvette Roadster 'Raytona'
Corvettes on Craigslist: Custom 1977 Scorpion Is (Hopefully) Only One Ever Made