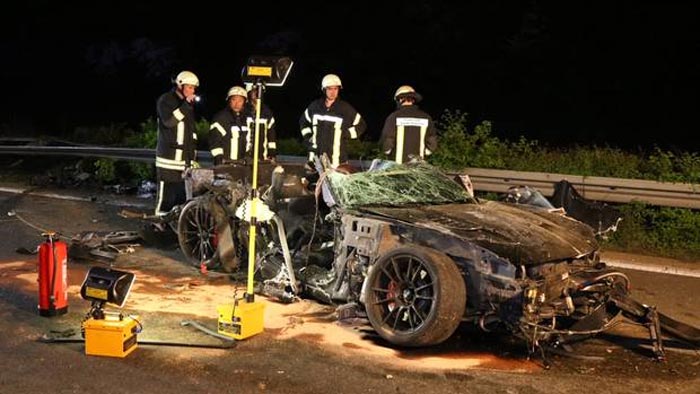 Photo Credit:
Jens Kleinert

If there was ever a powerful example to show why slower vehicles are supposed to stay out the fast lane, this picture should be it.
Earlier this week, A truck driver making an illegal pass in the left lane caused a Corvette to crash on the A3 autobahn near Konigswinter, Germany.
A witness behind the Corvette said he was traveling 200 kph and the Corvette was going even faster when the truck crossed the line into the left lane right in front of the sports car. The Corvette slammed on its brakes but there was nowhere to go and it first hit the middle barrier before crashing into the truck.
Two occupants in the Corvette, a 45-year-old male driver and a 36-year-old female passenger were taken to the hospital in serious to critical condition. The 24-year-old truck driver from Bucharest, Romania was also taken to the hospital after showing signs of being in shock.
The accident closed the A3 autobahn for several hours and Fire Department spokesperson Sascha Lienesch said that motorists failed to clear the way for emergency vehicles which delayed their response to reaching the accident victims.

Source:
general-anzeiger-bonn.de

Related:
[VIDEO] Top Speed Corvette Z06 Run on the German Autobahn
[VIDEO] C7 Corvette Stingray 300 km/h Top Speed Run
[VIDEO] Epic Drives: Corvette ZR1 Chases 200 MPH in Europe