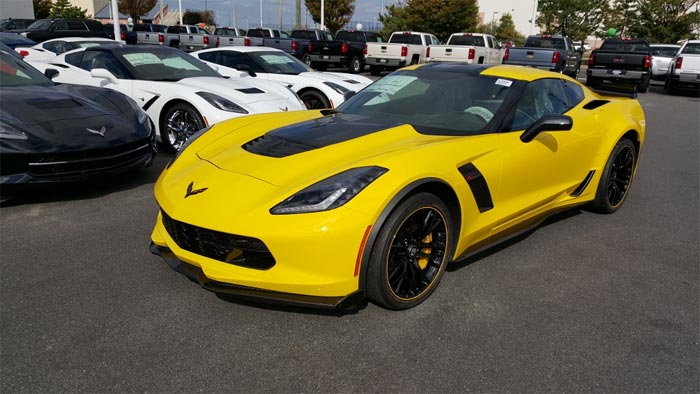 When you're the "World's Largest Corvette Dealer", you get to play with the toys first.
Just arrived at Kerbeck Corvette in Atlantic City is this new 2016 Corvette Z06 C7.R Edition and we're happy to share these photos of the namesake Corvette Racing Yellow sports car straight off the transport from Bowling Green.
The new special edition Corvette was announced back in April at the NCM Bash and since then, interest in the package has been very strong to the point that we've heard all 500 units planned for the US have been snapped up. Now that may mean that all dealers who had allocation have ordered the car and may not necessary have buyers for them yet. But now that the first cars are showing up at the volume dealers, it's going to be a scramble for any of those that are not yet spoken for.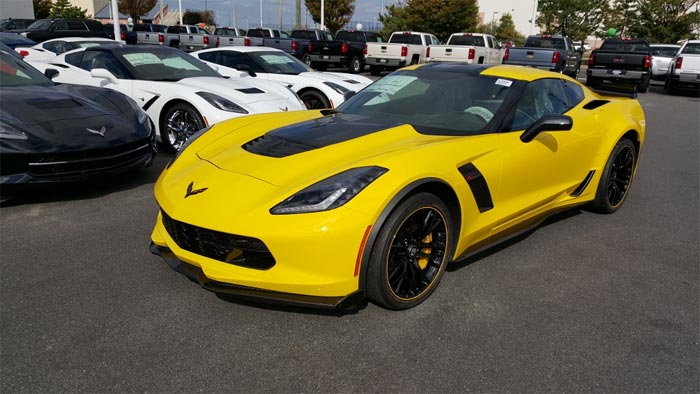 The Corvette Z06 C7.R Special Editions all come with the Z07 Performance Package with stage 3 carbon fiber aero and the 3LT Equipment Group. Customers can decide between a Coupe or Convertible and then the other two major choices involve picking either Corvette Racing Yellow or Black and your choice of transmission.

This Z06 C7.R Edition that arrived at Kerbeck is a Corvette Racing Yellow Coupe with the 8-speed automatic transmission. All the cars will feature with black aluminum wheels with the yellow accent lines and Jake centercaps, yellow Brembo calipers and the cool graphics package including Jake & Corvette Racing. Although it's not shown in these photos, C7.R Editions come with a unique car cover branded with the factory Corvette Racing C7.R is also included.

MSRP for the Corvette Z06 C.7 Editions start at $111,400 for the Coupe version.
The very first C7.R Edition with VIN 001 was sold for charity at Barrett-Jackson's Las Vegas sale earlier this month. The car hammered for $500,000 with proceeds going to the College of Creative Studies, a four-year fine arts and design school based in Detroit.

Chevrolet is actually producing 650 of these special editions which we think pays homage to the supercharged LT4's 650 horsepower and 650 lb/ft of torque. Of those, 500 will stay in the USA and the other 150 will be exported to various destinations.
We are pretty sure this Corvette Z06 C7.R Edition already has a new home, but to check on availability or if you are interested in ordering your own 2016 Corvette Stingray or Z06 or viewing their inventory, visit the World's Largest Corvette Dealer online at www.Kerbeck.com or call Dave Salvatore at 877-537-2325.

Source:
Kerbeck Corvette

Related:
[VIDEO] First VIN Corvette Z06 C7.R Edition Sells for $500,000 at Barrett-Jackson
[PICS] The 2016 Corvette Z06 C7.R Edition Convertible in Black Breaks Cover
Preliminary 2016 Corvette Pricing Released – Z06 C7.R Edition's MSRP is $111,400