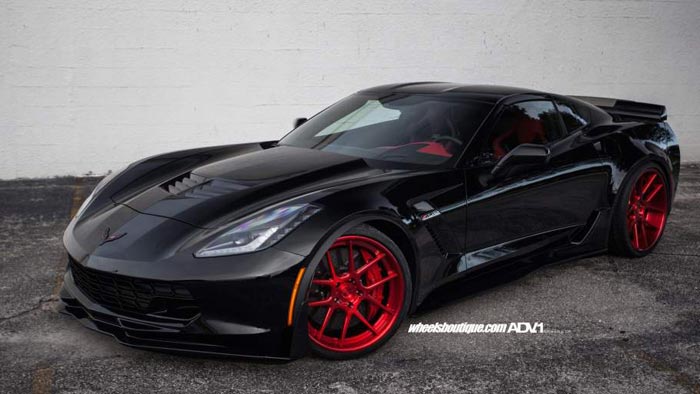 Did I miss the memo this week which dictates that all Corvettes should have red wheels?
Earlier, we shared an Arctic White Corvette Z06 with red custom wheels from Forgiato. And now we're sharing some new photos of this Black Corvette Z06 outfitted with red concave wheels.
Today's subject of wheel envy comes from ADV.1 on a Black Corvette Z06. The 650-horsepower supercar was shown with ADV.1's custom ADV5.O Deep Concave wheels in brushed gloss red with a matte black lip.
The Corvette Z06 wheels are sized 20×10.5s on the front while 21×12.5s on the rear.
Our take? We like these wheels on the black Corvette Z06. Not only do they accentuate and provide a different kind of bling then a chrome wheel, the wheel design itself reminds of the stock Z06 wheels on the C6 Corvette.
Check out these pics and let us know what you think about this Corvette Z06 with the ADV5.0 deep concave brushed gloss red wheels:

Source:
ADV.1 Wheels

Related:
[PICS] Shock and Awe: Arctic White Corvette Z06 on Polished Aluminum ADV.1 Wheels
[PICS] Corvette Z06 Looks Stunning on Matte Black ADV.1 Wheels
[PICS] Forgiato's 800-HP Widebody Corvette Z06 with Custom Red Wheels