Take a look at this episode of Jay Leno's Garage when fellow comedian Joe Rogan comes calling in his super-cool 1965 Corvette restomod.
Besides being a comedian, Rogan, of course, served as host of "Fear Factor" for years and has a gig as a UFC commentator (fitting since he's a tae kwon do champion).
Rogan says he bought the car from RK Motors in Charlotte, N.C., and soon started adding his own personal touches. We have to say that the final product, with help from expert car builder Steve Strope of Pure Vision, is one of the most beautiful Sting Rays we've ever seen.
"I've always been a guy that loves the old looks but wants the new underpinnings," Rogan said.
And you won't believe the sound the LS1 engine puts out after being supercharged to add low-end bottom torque.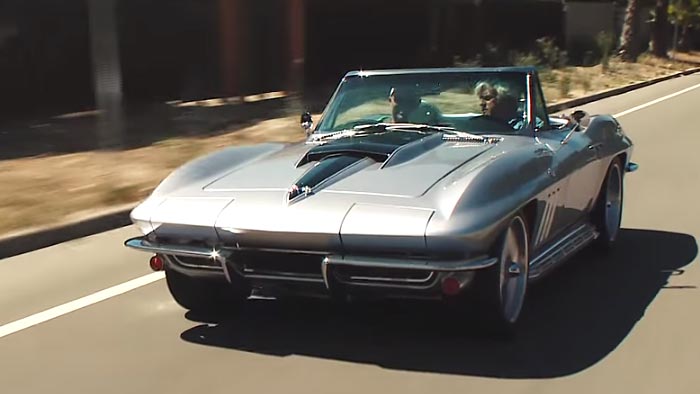 "It's a pleasure to drive," Rogan tells Leno, who also has a chance to climb behind the wheel and let us listen to the high-performance motor.
While we would never have thought to pick out the flat-center wheels from Centerline, we really think they add a fantastic and unusual touch to the overall look of the car, making it look like it's going 150 mph even when it's sitting still.
The 30-minute video admittedly will take a big chunk of your day, but we highly recommend listening to these three car lovers talking about this Corvette as well as automobiles in general. It's a pleasure to listen to enthusiasts weave stories in and out as we get to look at a true automotive gem in the background.
At one point, Rogan says that while he loves the new C7, calling it "a masterpiece," he believes his '65 offers up the "best of both worlds."
As Jay puts the Sting Ray through the paces, we think your eyes and ears will be inclined to agree with him.

Source:
Jay Leno's Garage

Related:
[VIDEO] Jay Leno Reviews the 2015 Corvette Z06 Convertible
[VIDEO] 1963 Corvette Sting Ray in Jay Leno's Garage
[VIDEO] A Collection of Vintage Corvettes Visits Jay Leno's Garage