Buying a chance to win a brand new 2015 C7 Corvette Stingray coupe and at the same time helping some folks who have hit a few bumps in their lives seems like a worthwhile investment to us, even if you don't win. All of the proceeds from the raffle of the Stingray, from Criswell Chevrolet, home of Corvette mega-salesman Mike Furman, will go to the Patty Pollatos Fund, an all-volunteer, non-profit charity in Frederick County, Maryland.
Corvette C7 Stingray Coupe
The raffle 2015 Corvette is an Arctic White coupe with an Adrenaline Red interior with perforated Milan leather seating surfaces on the GT bucket seats. In addition to the standard 6.2-liter, 455 horsepower V8, the car comes with:
2LT Equipment Group
Transparent roof panel
Chevrolet MyLink audio system
Red brake calipers
8-speed automatic transmission with paddle shift
Performance exhaust
Black aluminum wheels
Performance data and video recorder
ZF1 appearance package

Patty Pollatos Fund
The Patty Pollatos Fund, PPF Inc, is a non-profit 501(c)(3) organization that was established by Patty's friends and neighbors in her memory. Patty, who passed away in September of 1992, was financially devastated fighting her cancer and was about to lose her house. Her family and friends took action and raised enough money for Patty to keep her house. Knowing that there were others in Patty's situation who needed help, the Patty Pollatos Fund was established.
PPF, Inc is an all-volunteer effort, no money is paid for salaries. It's a community-based non-profit that operates with an all-volunteer workforce to educate and assist local families and individuals in Maryland about economic opportunities, raise funds and assist in raising funds for families during temporary financial strain caused by cancer, spinal cord injuries, heart, liver or kidney transplants that knows no income level. They also provide assistance, as needed, with national disasters and help to raise funds for other local non-profit organizations.
The Raffle
Raffle ticket sales will be limited to 1,000 tickets sold at $100 each. For ticket orders, please visit the PPF, Inc. website. The drawing will be held at the Great Frederick Fair on September 26, 2015 and will be broadcast on WFRE radio 99.9, Frederick's Free Country station. Good luck!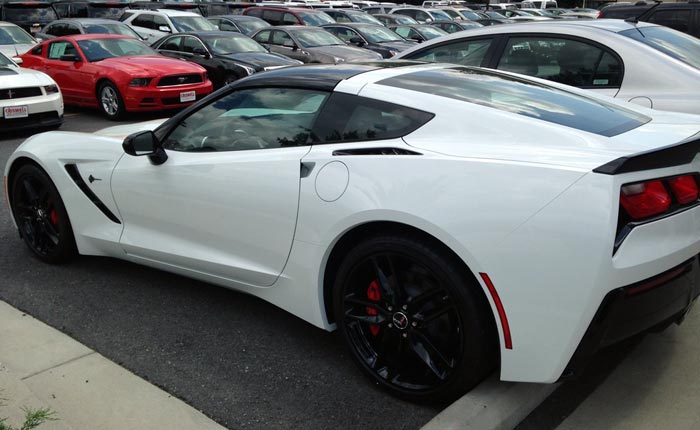 Source:
PPF, Inc

Related:
Win Dale Jr.'s 2015 Corvette Stingray
Win Jeff Gordon's 2015 Corvette Stingray and Support Childhood Cancer Research
South Richmond Rotary Club Raffling Off a 2015 Corvette Stingray Built the Way You Want