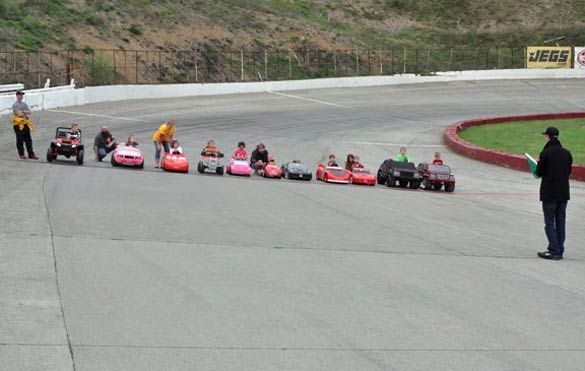 Sometimes competition can't be measured by simple finish lines painted on the asphalt.
Take this case on Thursday when the top three finishers in the "Kids Race" at Kingsport Speedway decided to keep on truckin'. Maybe they thought this was a 600-mile race and not just a few feet, huh?
A pink Mustang roared to a big lead early in the race, though a couple of red C7 Corvettes came charging up on her heels.
When the announcer declared the Mustang the winner, she wasn't ready to quit. Nor were her two closest competitors in the Stingrays!
As the announcer hollered for them to "stop, stop, stop!" they just kept on going, nearly in a dead heat, pedal to the metal – er, plastic, as track officials chased them down.
The pink Mustang was first to be collared, dragged back to the finish line against her will to celebrate her win.
The two Corvettes kept going, with the inside car spinning out of control to finally stop.
But it took a nasty tumble by an official to finally stop the last Corvette – much to the delight of the howling audience.
Photo Credit: Jeff Bobo
This has to be the most interesting race of its kind we've seen in a long time. Maybe these kids need to be signed to NASCAR contracts now before they get too expensive!
Visit www.TimesNews.net to watch the exciting video of these cute kid racers putting the pedal to the plastic at Kingsport Speedway.

Source:
TimesNews.net

Related:
[VIDEO] Four Year Old is a Proud Corvette Stingray (Power Wheels) Owner
This is the Cutest R8C Corvette Museum Delivery Ever
New Fisher-Price Power Wheels Corvette Stingray Coming this Fall