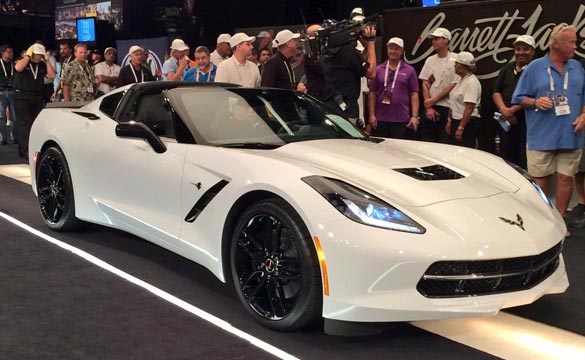 The first retail 2015 Corvette Stingray with VIN 001 crossed the auction block Friday night at Barrett-Jackson's Las Vegas sale inside the Mandalay Bay Casino. The Arctic White Corvette, which comes equipped with the all new 8-speed automatic transmission, saw steady bidding throughout the sale which was broadcast nationwide on FoxSports2. The hammer dropped with the high bid of $400,000 and winning the car was Chevrolet dealer and Corvette collector Dave Ressler.
Ressler is no stranger to Barrett-Jackson auctions and his new VIN 001 will fit right at home with his other low VIN and first VIN Corvettes.
His collection includes the No. 003 1953 Corvette which is considered the oldest surviving production Corvette as well as a special one-of-one 2009 Corvette ZR1 "Blue Devil" which he purchased at Barrett-Jackson's Scottsdale auction in 2008. Both of those Corvettes were purchased for $1 million each.
While conventional wisdom had the 2015 VIN 001 Corvette already parked in Rick Hendrick's collection next to his recent C7 VIN 001 cars – the 2014 Corvette Stingray Coupe and Convertible as well as the 2015 Corvette ZR1 Coupe – it appears there wasn't the same level of interest for a second year Corvette vs those that came out in their inaugural year by the NASCAR team owner.
The Corvette was offered for sale by General Motors with 100% of the proceeds going benefit the CARE House of Oakland County. CARE House has served thousands of children and families since 1977 and offers intervention and treatment for child victims of abuse.
Dave Ressler is the owner of Ressler Chevrolet in Mandan, North Dakot and Bozeman, Montana. His collection of Corvettes can be viewed online at www.CollectorCorvettes.com.

Source:
Barrett-Jackson

Related:
Chevrolet to Sell the Very First Retail 2015 Corvette Stingray at Barrett-Jackson Las Vegas
[VIDEO] Ressler Talks About Million Dollar Corvette ZR1 Delivery
Barrett-Jackson 08: [VIDEO] 1st 2009 Corvette ZR1 Sold for $1 Million