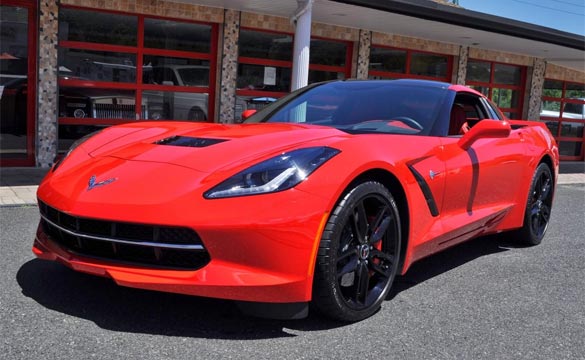 It was rocking year for the 2014 Corvette Stingray and now it has come to an end.
Production of the 2014 Model Year Corvette officially ended on Friday, August 8th and its the 2015 Corvette Stingray that is now heading down the assembly line in Bowling Green.
The Stingray was a gift that Corvette needed so bad. Following the "carpocalypse" in 2008-09, production fell from an average of around 30,000 units down to 13,000 and they never came back. The low sales were partly due to the harsh economy, but also partly due to an aging design.
Then the 2014 Corvette Stingray arrived and everything changed.
Autowriters couldn't stop talking about the Corvette and that especially helped to hype up the car between the Corvette's reveal at NAIAS 2013 in January through the summer months until the first C7s were built in August.
Organizations, car magazines and websites offered up so many awards for the new Corvette that the PR folks will tell you it was the "most awarded" new car launch ever. The crown jewel for the Corvette Team was the Stingray being named the 2014 North American Car of the Year.
Buyers flocked to their Chevrolet dealers in the Spring and summer of 2013 as ordering opened up and plucked down their hard cash for a car many had not even seen in person. By October 2013, Corvettes were shipping like crazy out of Bowling Green, all wrapped up in white transit covers like big gifts for their new owners.
Nearly 4,000 Corvettes shipped out in October 2013 and the delivery pace only slowed in the winter when the weather turned bad.
So how many Corvette Stingrays were built during the first year of production? The numbers are not yet official, but a user on the Corvette Forum was at the assembly plant on Friday and he witnessed the build of not only the final 2014 Corvette Stingray but also the very first 2015 Corvette Stingray.
According to DaveGuy68, the final 2014 Corvette Stingray was white and had a VIN sequence number of 35523. Which means that 35,523 Corvette Stingrays were built. But don't forget the 1,050 Premiere Coupe and Convertible editions which had their own VINs. So if no VINs were skipped, we are looking at a total 2014 MY production count of 36,573.
Today, all the Corvettes on the line are 2015 models. Leading the way and wearing VIN 00001 was an Arctic White Corvette.
The 2015 Model Year also marks the highly anticpated return of the Corvette Z06. Production of the new Z06 won't begin until later this year with deliveries expected in early 2015.
The 2014 Corvette Stingray is now part of Corvette's 61 year history. An amazing turn-around from where we were just a few years ago when many wondered if Corvette would survive during GM's bankruptcy.

Related:
July 2014 Corvette Sales
The Corvette Stingray Wins Again, Beating Rivals Where it Counts
The Legend Returns – Introducing the 2014 Chevrolet Corvette Stingray