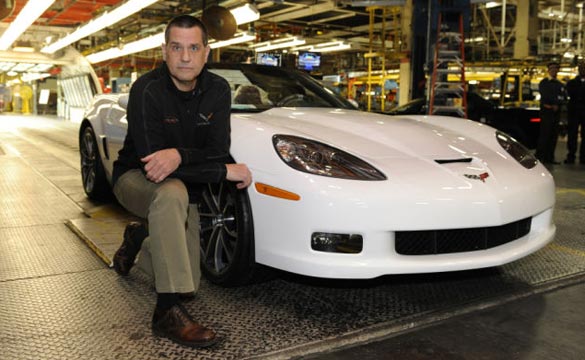 Photo Credit: Bowling Green Daily News
The oil runs thick in Dave Tatman's veins.
That's why it's no surprise that the recently retired general manager of the Corvette Assembly Plant in Bowling Green has already turned up in a new and exciting post related to the auto industry.
Tatman was named yesterday as the first executive director of the Kentucky Auto Industry Association, which aims to promote the state as a world leader in the automotive industry.
"Dave is the best person for the job," said Larry Hayes, chairman of the association's 12-member board of directors. "His experience in the industry and his strong relationships with manufacturers and suppliers throughout the state will be invaluable assets as we further strengthen our position as a leader in the global automotive marketplace."
The personable Tatman said he is "delighted and humbled" to serve in the new position, adding that he is "very excited" to draw on his 34 years of automotive experience to help Kentucky solidify its position in the auto industry.
"We have long needed a united voice on matters of mutual concern," he said, "and the association gives us the platform for that voice."
Tatman began working for GM in 1980 as a college graduate in training and moved up to assume many leadership positions in the United States, Canada, and South America. He served as plant manager at the Corvette plant from 2010 until his retirement earlier this year.
Kentucky already is among the leading producers of vehicles in the U.S., with more than 1.2 million vehicles produced last year. That number ranks third overall in light vehicle production and first per capita. Nearly 82,000 people work in the state's 460 motor vehicle-related establishments.
Tatman will try to build on that legacy that has already produced about 300 motor vehicle-related projects in the state during the past five years, leading to more than 17,600 new jobs and $4 billion in new investment. Furthermore, the state's motor vehicle exports reached a record $5.5 billion in 2013.
In the past five years, nearly 300 motor vehicle-related projects have been announced statewide, representing more than 17,600 new jobs and $4 billion in new investment. Kentucky's motor vehicle exports reached a record $5.5 billion last year.
Tatman and the Kentucky Automotive Industry Association will offer auto manufacturers, suppliers, and supporting entities their first opportunity to work together to share best practices and encourage meaningful dialogue and action. The association will also take a leading role in forming collaborative partnerships to advance the auto industry now and in the future.

Source:
lanereport.com
Photo Credit: Bowling Green Daily News
Related:
Corvette Assembly Plant Manager Dave Tatman Announces Plans to Retire From GM
[VIDEO] 2014 Corvette Stingray Named North American Car of the Year
Corvette Assembly Plant Named Kentucky Manufacturer of the Year