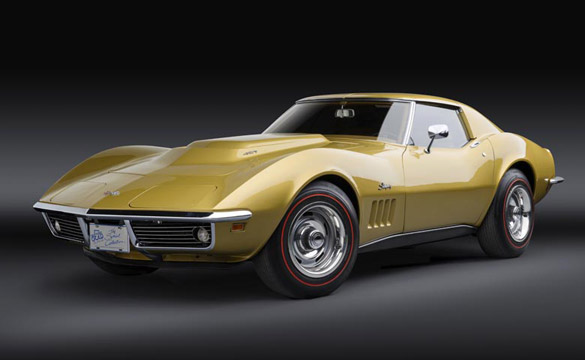 Photo Credit: Ron Kimball Studios
The hottest Corvette in the collector market is the epic L88, and it's just not hot, it is scorching. And while Corvette values overall have been on a strong run over the past two years with auction prices among the strongest of all automotive brands, the second and third generation Corvette L88 values are in a league of their own.
And one of the finest third generation L88's in the world is going to cross the block on May 3rd in Worldwide Auctioneers Houston Classic Auction. The Riverside Gold 1969 coupe is an original survivor with less than 2600 miles. But before we look at what makes this Corvette so appealing and what it is likely to sell for, let's take a look at other L88 Corvettes and what is happening in the market.
Within the last eight months we have seen three world's price records set and they all were set by, you guessed it, L88s. In September of 2013 a 1967 L88 convertible was hammered for $3.2M ($3.456M including premium) at Mecum's Dallas event setting a record for the highest price ever paid for a Corvette at auction. The second generation Corvette convertible had been a part of Buddy Herin's outstanding car collection.
1967 L88 convertible was hammered for $3.2M at Mecum's Dallas event
Then only four months later in Scottsdale at Barrett-Jackson the only Red/Red 1967 L88 known to exist obliterated the same record when the coupe was hammered for $3.5M ($3.85M with premium).
Only a few minutes before the 1967 L88 was sold a third generation 1968 L88 race car known as "The Rebel" shattered a record for the highest price ever paid for a third generation Corvette when it sold for $2.86M. Up until then no third generation Corvette had ever broken the $2M price barrier.
Certainly the second generation L88's command the highest prices for any Corvette; there were only twenty produced in 1967, the final year of the C2 and they are considered to be the crown jewels of collectible Corvettes. Third generation L88's were produced for only the first two years, 1968 and 1969, of the new third generation body style. They not as rare as the 1967 so they do not command similar astronomical prices. Over the two year production there were a total of 196 L88's produced, 80 in 1968 and 116 in 1969 and because most of these were subjected to the rigors and abuse of racing several of the cars have either perished or have had to be extensively restored.
Nevertheless the third generation L88 prices have been very strong and rapidly escalating. Prices for strong #2 condition C3 L88's consistently now command $450K to $550K, while only a few years ago the same cars were being sold in the $250K to $350K range. But #1 condition C3 L88's are much more difficult to find and the few that have come to market recently have skyrocketed and are getting a lot of attention among knowledgeable collectors and authorities. An original #1 condition C3 L88 survivor can get 50 to 75% more than the same car in #2 condition. If the Corvette market remains on the same trajectory we could very well see a C3 L88 (without a competition provenance) break the $1M ceiling this year or early next year.
We have some good third generation L88 comparisons to look at from the January auctions. In Barrett-Jackson's Scottsdale auction an original condition 1968 L88 convertible stunned some experts when it was sold for a staggering $880K. The blue survivor was fully documented, verified by the highly respected retired chief judge of the NCRS, Roy Sinor, and had been owned by its original buyer for the first 34 years. It was all original and had 13,590 original miles. From a comparison point this L88 may be the closest to Worldwide's consignment.
Then a week later in Kissimmee three third generation L88's crossed the block at Mecum's auction. A restored but beginning to age 1969 Fathom Green L88 coupe was hammered for $510K. It had been fully restored almost 25 years before and though showing some age was holding up well though not a #1 condition . The second sold L88 was a #2 condition, original surviving 1968 coupe that had been reunited with its original engine and hammered at $530K. The third and the best of the three was a 1969 LeMans Blue L88 convertible that had undergone a recent $240K restoration. Though it was a #1 condition car it was a restored car as opposed to an original survivor. It was bid to $735K but did not meet the seller's reserve.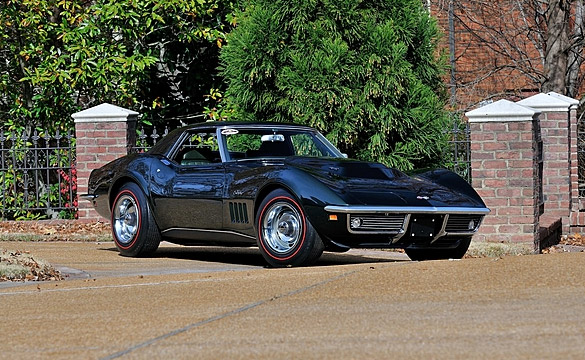 1969 Corvette L88 Convertible at Mecum Kissimmee 2014 sells for $510K.
But the 1969 L88 being offered Saturday, May 3rd, during Worldwide's auction is one of the most desirable original condition third generation L88 in existence and arguably may be the finest; that is saying a lot. What sets this Riverside Gold L88 apart is that the consignor claims it is an all original survivor. Though I haven't inspected the car personally it appears to be in excellent condition that has escaped the wear and tear inflicted on most L88's. The value of original condition survivors in the market carries a significant premium among collectors. As every enthusiast has heard over and over is "A car is only original once," and the great majority of L88's have been fully restored which further enhances the value of this example.
This L88 has full documentation and ownership history. That history reveals that the original owner put the L88 into storage after enjoying it oduring the summer of 1969, where the car remained until 1972. Afterwards the car changed owners until it ended up in a prominent California collection. Over its life the car had always been well maintained, garaged and transported in an enclosed trailer. With only 2574 original miles, it is likely the lowest mileage example of a third generation L88 in the world. The owner claims that in order to preserve the original build sheet that was glued to the top of the fuel tank, the original tank was removed and replaced and the original fuel tank with the tank sticker in tact will be sold with the car as proof of its provenance. It also will be sold with the factory window sticker, GM Protect-O-Plate, and warranty booklet.
Worldwide Auctioneers has set the estimated value of the rare Corvette at $650,000 to $850,000. Based on the recent market activity that estimate seems reasonable and maybe even conservative if the car is everything it is claimed to be and there is no reason to think otherwise. Of course whenever considering a collector car purchase buyers are urged to do their research and due diligence. But based on what we can see, for some fortunate collector this Riverside Gold L88 is truly the pot of gold at the end of a rainbow.
In addition to the featured L88 Worldwide has six other Corvettes scheduled to cross the block, one being a 1968 L89 COPO roadster. Worldwide's auction is a part of a three day motoring weekend that includes a motor tour, known as the Texas Tour d'Elegance, an evening charity event, and concludes on Sunday with the Concours d'Elegance of Texas. All events are being held at the La Torretta Lake Resort and Spa in Montgomery, Texas- See more at: http://www.worldwide-auctioneers.com.

Rick Tavel writes about automobiles with an emphasis on Corvettes and the hobby in general. You can see his website at revenantrt.blogspot.com

Source:
Worldwide Auctioneers 2014 Annual Houston Classic Auction
All photos by Ron Kimball Studios
Related:
1967 Corvette L88 Sells for World Record $3.5 Million at Barrett-Jackson – Updated w/ Video
[VIDEO] 1967 L88 Corvette Convertible Sells for Record $3.2 Million at Mecum Dallas
[VIDEO] A Look at the 1968 Chevrolet Corvette L88 427 Roadster