Enthusiasts were treated to three days of excitement last week when Mecum presented their second major collector car auction of 2014, April 10th through the 12th in Houston.
The heavily promoted prototype Ford GT40 was hammered down at $7M and TV viewers got to see it on live TV. It was the highest price ever hammered down for an American car being broadcast on "live" TV. And though that was impressive, it was actually more exciting to watch former Viet Nam veteran Don McNamara's pristine, 2997-mile Corvette hammered down for $725K ($797.5 including commissions). Along with the McNamara Corvette, Mecum sold 61 of the 101 Corvettes consigned, a strong sell through for Corvettes.
The impressive Don McNamara 1967 427/390 Coupe which we told you about in a previous article sold for what we originally predicted and was the number one Corvette sold during the auction. The impressive Corvette is arguably the finest all original 1967 Corvette in existence and certainly one of the most storied. When the Corvette was pushed to the block it was swarmed with excited enthusiasts. Only three other people had ever driven the car and no one had sat in the passenger seat so even Mecum employees would not start the car and white gloves were used when touching the pristine Corvette.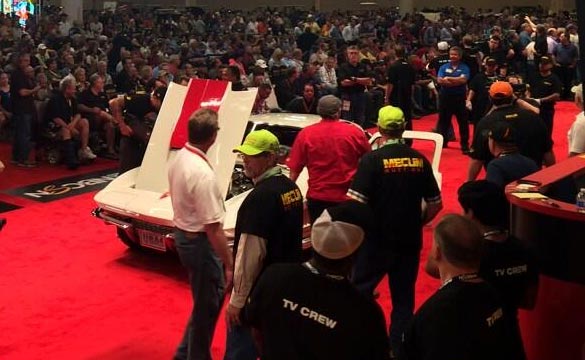 The consignor and owner Dr. Mark Davis, who affectionately nicknamed the car "Mac" in honor of the original owner and Viet Nam veteran, Don McNamara, was emotional as the car crossed the block. A Corvette collector, Davis names all of his Corvettes but admitted that this one was very special in several ways and was very concerned that "Mac" would go to a home that would value and respect the car not only for what it was but for what it represented.
Here is the video to the McNamara Corvette auction from Mecum Houston 2014:
Corvette Results
And there was more excitement throughout Mecum's second major collector car auction held in Houston April 10th through 12th with their usual impressive collection of Corvettes, with over 100 crossing the block and 61 of those hammered as sold in the three action packed days. There were more than a few Corvette bargains snapped up in addition to the $100K+ 1963, 1966 and 1967 Corvettes which accounted for nine of the top ten Corvette sales of the auction. All but one, a 1961 restomod, was either a 1963. 1966 or 1967. Clearly the second generation Corvettes were the most desired and the ones hammering for $50K or more.
| | | |
| --- | --- | --- |
| LOT # | DESCRIPTION | SOLD PRICE |
| S128 | 1967 Coupe – McNamara | $725,000 |
| F215 | 1967 Convertible – Award winning 427/435 | $127,500 |
| S205 | 1961 Restomod Convertible – LS2, 6 Speed | $125,000 |
| S155.1 | 1967 Convertible – Award winning 427/435 | $120,000 |
| S146 | 1963 Coupe – 327/360 Silver/Blue | $120,000 |
| S109 | 1967 Convertible – 427/390 Matching numbers | $120,000 |
| S149.1 | 1966 Convertible – Award winning 427/390 Auto | $108,000 |
| S106 | 1967 Convertibl – 427/400 Tri power, 39K miles | $100,000 |
| S147 | 1967 Restomod Coupe – LS3, 6Spd | $100,000 |
| S116.1 | 1966 Convertibl – 427/425 Restored | $100,000 |
| | | |
| | TOP 10 TOTAL SALES: | $1,745,500 |
There was a good selection of third generation cars most of which were sold below $20K except for some collector edition, anniversary and pace cars which sold between $20K and $30K. Two outstanding bargains in third generation cars was a virtual time capsule 1982 Collector Edition (Lot F121.1) with less than 3K miles and a 1978 Silver Anniversary Edition (Lot F46), each hammered at $21.5K. The headline third generation ZR1's however both failed to sell, while two of the three sixth generation ZR1's were sold for $75k and $71K respectively.
However, similar to the Mecum Kissimmee auction in January several of the auction's headline and premier Corvettes failed to sell and this time it couldn't be attributed to the weather. Of the top five featured Corvettes consigned only one of the five sold, the McNamara 1967 Corvette. The headline Bunkie Knudsen 1963 styling Corvette (Lot S119), the Gus Grissom 1967 Corvette (Lot S120.1), the 1963 7/11 Racecar (Lot S129.1), and an award winning 1967 427/435 convertible (Lot S191) all failed to sell despite relatively strong bids.
Mecum's next collector car auction is coming up April 24th through the 26th at Mecum's traditionally strong Kansas City event.

Source:
Mecum

Related:
Mecum's Houston Event Offers Two Compelling Midyear Corvettes
Deciphering the Confusing 2014 Corvette Collector Market
[VIDEO] Vette Collections – The Buddy Herin Collection