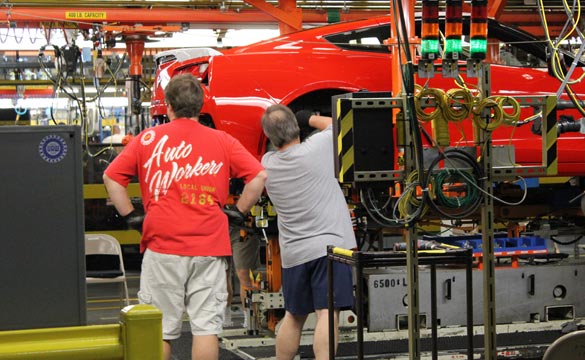 Is there trouble brewing in Paradise?
We'll find out Tuesday night.
Alleging that workers are being mistreated and management isn't addressing problems with quality and safety, the United Auto Workers Local 2164 has scheduled a strike vote on Tuesday at the Corvette Assembly Plant in Bowling Green, Ky.
That's the word Monday night from The Tennessean newspaper in Nashville.
But if you're worried that a strike might delay you from picking up that shiny new Stingray, don't fret just yet. The president of Local 2164, which represents the Corvette plant's 800 assembly workers, says the vote doesn't mean a strike is inevitable, just that a strike vote would authorize a work stoppage if the dispute can't be settled by the two sides.
"Hopefully we can get the problems corrected without a strike," union leader Eldon Renaud said. "The strike vote doesn't necessarily mean we will strike, but it does give us the authorization to (strike)."
Renaud said the Corvette workers believe they are being "mistreated," and that "there is inequity in discipline and problems with quality and safety that aren't being addressed by management."
"Our members," Renaud said, "are tired of it."
Workers are also upset with the plant's personnel director and some of the contractors and subcontractors working there, according to Renaud.
Dave Tatman, plant manager since 2010, surprised many people when he abruptly retired from that post on March 1 after leading the facility through extensive remodeling necessary for the launch of the seventh-generation Corvette. Renaud says workers are hopeful that Tatman's replacement, Jeff Lamarche, may be open to the changes they're seeking. Any work stoppage would not be immediate if the workers do vote for a strike Tuesday.
"The membership has to vote to strike, but it's just a step in the process," Region 8 Director Gary Casteel said. "It's purely a local situation, though. They are having some issues with the local management."
Casteel and other key regional and national union officials would have to authorize the strike, too.
Results from the voting, which will be held at the union hall all day Tuesday, are expected to be available around 7 p.m.

Source:
The Tennessean

Related:
Meet The New Corvette Assembly Plant Manager Jeffrey Lamarche
Corvette Assembly Plant Manager Dave Tatman Announces Plans to Retire From GM
[VIDEO] 2014 Corvette Stingray Named North American Car of the Year