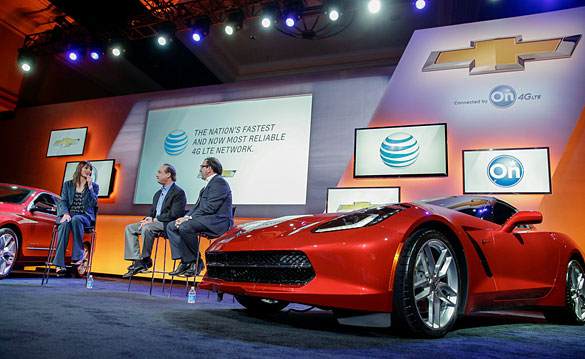 How would you like to turn your Chevrolet vehicle into a mobile hotspot?
Starting with the 2015 Corvette, Impala, Malibu, and Volt, customers will be able to option their vehicles with OnStar 4G LTE. Eventually, the Equinox, Silverado, Silverado HD, Spark, and Spark EV will follow suit.
Chevy says the majority of its 2015 lineup will have a 4G LTE connection built-in at vehicle launch.
That means the vehicle will have a built-in Wi-Fi hotspot so passengers can connect multiple devices like smartphones, laptops, and tablets – at the same time – to high-speed wireless Internet offered on AT&T's network, billed as the nation's fastest and most reliable 4G LTE network.
The announcement came today at the Consumer Electronics Show in Las Vegas.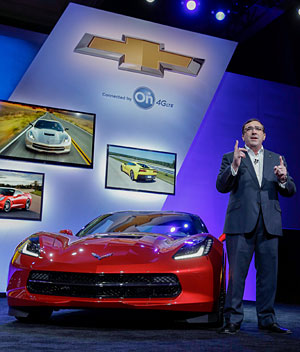 "Chevrolet is expected to implement the broadest deployment of 4G LTE in the automotive industry," said Alan Batey, senior vice president of Global Chevrolet. "The fact that OnStar with 4G LTE will be available in models that range from the Chevrolet Spark to the Silverado to the Corvette, is indicative of our broad commitment to deliver more value and convenience through smart technology applications. This new, purposeful technology solution will make our consumers lives easier to connect."
Mary Chan, president, GM's Global Connected Consumer, says that its customers rely on their wireless connections throughout the day, and having a 4G LTE hotspot built into their vehicles "will provide a more consistent and powerful Wi-Fi connection than a smartphone," she says.
Thanks to a partnership with AT&T, customers will be able to get a fast and flexible data plan for their vehicles. Current AT&T customers will be able to add their vehicle to a shareable bucket of data through AT&T Mobile Share plans, or through a standalone plan. More details will be released later this year about other pricing and data packages.
The built-in 4G LTE connection will also allow select 2015 Chevys to be updated with the latest software and apps through AppShop via Chevrolet MyLink, Chan says. "This means that the driver's vehicle infotainment systems can keep getting better after purchase as customers can continue to add on and customize their features."

Source:
General Motors

Related:
Chevrolet Shows Off Google Glass App for the C7 Corvette Stingray at CES
[VIDEO] Chevrolet Introduces the 2015 Corvette's Performance Data Recorder at CES
Chevrolet will Live Stream the 2015 Corvette Z06 and C7.R Reveal at NAIAS