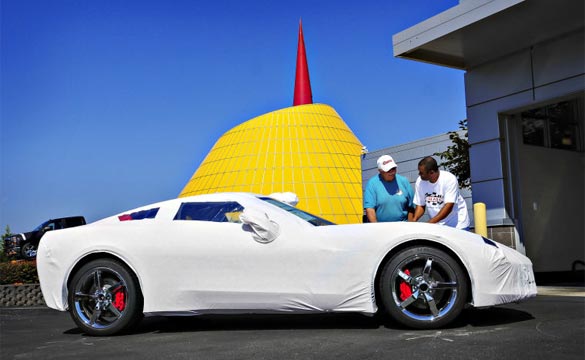 Photo Credit:
Miranda Pederson/Daily News
This day has been a long time coming for Nick George.
Now in his 30s, George started saving for a Corvette when he was just 5 years old. That dedication to Chevrolet's sports car was rewarded today when he and his wife, Valerie, became the first customers to take delivery of a new Stingray at the National Corvette Museum in Bowling Green.
Ironically, it was the first time they had seen the new C7 in person, though they were watching intently on the Internet in January when it was unveiled in Detroit. It was love at first sight.
"The next day we went out and put down a deposit on one," Nick says. "The time was just right, and the car was right with the new model style." The Georges picked up the bill of sale Wednesday from their dealer in Jupiter, Fla., who asked if they wanted to see one of the new Stingrays that had arrived for someone else.
"But we wanted to keep the suspense going until we can see our car in person," Valerie said. Their car is No. 16 off the assembly line.
The museum will be very busy helping folks like the Georges in the coming months.
Delivery manager Lori Bieschke says the museum has 317 deliveries scheduled through Nov. 25, and she believes they may break the record of 1,000 deliveries in a 12-month period.
"We are going to be very busy," she says.
The museum delivery adds $990 to the price of the Corvette, with about $700 of that going to the museum. Included for that price is a VIP tour of the Bowling Green Assembly Plant for four people, a special plaque with the owner's name and VIN to go on the dash, some help learning how to operate the car, and a grand sendoff, with employees lining the interior boulevard and applauding the new owners as they get ready to leave.
Ken Johnson, a salesman at Campbell Chevy in Bowling Green, says the dealership has already sold its allotment of 2014 Stingrays, some 37 of them, and notes that all will be delivered through the museum.
"Why someone would buy a car and not do that I don't know," he said. "I would encourage anyone who can to do so."
Johnson says at first he was told that each dealership would get one Stingray for every four Corvettes they sold last year, but that wasn't going to be nearly enough.
"Eventually as production got closer there was an adjustment," he says. "We are hoping as they get into this and production increases, we can squeeze a few more toward the end of the model year."
In an attempt to make the first Stingrays as perfect as possible, assembly line workers are being cautious, turning out about seven cars per hour, with a goal to reach 12 to 15 as they get more used to the process.
"We have several orders in our system with deposits for people hoping to get the vehicles," Johnson said. "I have to applaud the efforts of the guys at the plant. They are trying so hard to make it as absolutely perfect as possible, so they are holding down the per hour production."
Check out this video of the George's delivery at the National Corvette Museum:

Source:
BG Daily News
Photo Credit: Miranda Pederson/Daily News
Related:
[VIDEO] Watch the 2014 Corvette Stingrays Get Built in Bowling Green
[PIC] First Shipment of R8C Delivery Corvette Stingrays Arrive at the National Corvette Museum
Chevrolet is Now Shipping 2014 Corvette Stingray Coupes to Dealers