When Brian Hobaugh's dad bought a 1965 Corvette to compete in the world of autocross back in 1983, he probably didn't realize he was creating a family legacy that shows no signs of ending anytime soon.
But that's exactly what he has created over the past 30 years with his magnificent 1965 Sting Ray that has never known anything but life on the autocross since it was created in St. Louis, Mo.
Brian says when he was just 6 years old, his dad took him to the local autocross in Pleasanton. "My dad said, 'That's cool – I want to do that.' So one day he got the nerve to go back there, and he got hooked on autocross. And 6 years old until now, I've been out in the parking lot, racing autocross."
His dad's first two rides in autocross were a 1974 Camaro (his mom's daily driver) and then a 1972 Camaro Z/28.
"There was a new class that was forming in the SCCA in the early '80s, 1983," Brian recalls, "and the Camaro was a good, fast car, but in that class were the Corvettes. They were legal in that class. So my dad wanted to be ultra-competitive in that class, so he sold the Camaro and bought this '65 Corvette."
Now 30 years later, Big Muscle's Mike Musto features the classic Corvette on his Web show for slashdrive.tv and is left giggling like a school girl about the car's performance.
"That sound," Mike says as he revs the Sting Ray's engine, "never, ever gets old. With every car we drive, that first start-up is one of the sweetest sounds that I hear every day."
It's been a sweet sound for the Hobaugh family – and the previous three owners, too.
"There has not been one year since this car was actually purchased in '65 that this car hasn't been run on an autocross and in some kind of competition," Mike points out.
The original owner bought the car for the sole purpose of autocross, Brian adds.
"So in 1965, when he picked it up, he took it home and he cut the fenders off," he says. "He immediately put the big race tires on it, and then he built the flares in the front. Those were done in '65-66, when it was relatively new. It had rear flares, but not this big, because they didn't have tires that big."
The third owner made the flares bigger in the back, and Brian just had the car painted at his shop and slightly modified it "just to make it a little cleaner on the edges."
Other than that, Brian says, "this car, the way you see it, it's been like this for well over 30 years. The body hasn't changed. So this car has been this cool for that long."
Another thing that hasn't been changed is the interior.
"First off, the original owner didn't see a need to improve on what is perhaps one of the coolest interiors of that era," Mike says.
"Brian's dad didn't see a need to improve on it. Brian did not see a need to improve on it. These aren't after-market – these are stock '65 gauges, and it really, really lends to the car. No bells and whistles because the car doesn't need them."
The engine is a 364 small block stroker that pumps out 500 hp and 500 lb-ft of torque, and its sweet sounds leave Mike giddy.
"Right now we're doing, I think, 20," he says as he rolls down the road in the Corvette. "So if we run up through the gears and just roll, I mean, this thing revs to 7500! Oh, man. It's just …"
He stops to laugh.
"This car is so good!"
More laughter.
Another generation of the Hobaugh family will soon climb behind the wheel of this classic Sting Ray.
"My daughter's 15 right now," Brian says, "and she gets her permit actually next month. And she's excited to get in this car, and I'm excited. My dad is too. We'll have three generations driving this car at the same time."
Brian says the Corvette will be at the OPTIMA Ultimate Streetcar contest and he's excited about showing people what it can still do after all these years.
"People know this car and love this car," he says. "The cool thing about this car is, not only locally but since we did travel, a lot of people around the country know this car, and I get so many people say that this is their favorite autocross car, and they've said it for 20 years!"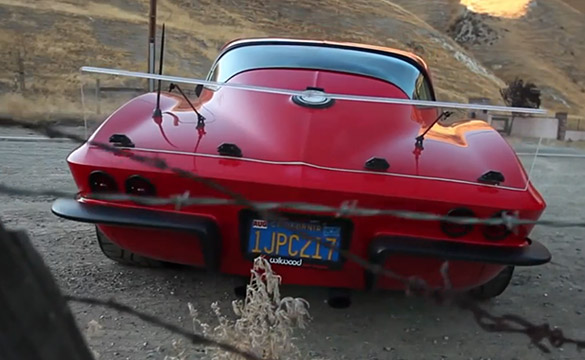 Mike Musto certainly agrees.
"It's one of those cars that when we show up and we see the car in person, we realize just how much we love our jobs. We realize that my God, there are still people out there that have the vision to take a chance on a car and not build it for somebody else. But build it for themselves and their families, and they use it just to make stories.
"If this car could talk," Mike continues, "think about the stories it would give you about Brian's dad, about Brian, about the future stories that are going to be presented to his daughter because of it. They're wonderful. They're just simply wonderful."
Brian gets a little emotional when he talks about the '65.
"What I love about this car is the history of the car, the thing, the bond between my father and I," he says, getting choked up for a few seconds. "This car is going to stay in the family. I just can't see selling it. My dad and I have talked about, oh, it'd be cool to have a new Corvette, because they're so cool. But they're not like this car. This is never going to happen. I won't let him sell it. I'm not going to sell it. Yeah, there's just too much in life to get rid of something that's such a part of you."
Leave it to Mike to sum up the car:
"I want everybody to pause for a moment and really look at this car. Think about its organic shape, the flowing of lines, and the powerful stance. Understand that it was not crafted at some high-end Italian factory but instead built on an assembly line at St. Louis, Mo. It featured fuel injection, a fully independent suspension system, and had the name Sting Ray grafted onto the front dash panel."
It was, he says, "uniquely American."
"And to this day," Mike concludes, "it is still one of the most beautiful cars to ever have emerged from the General Motors design studios. To Brian, we say thank you for letting us drive this car. And we look forward to checking in with you again soon to see what your daughter thinks of it."

Source:
GM Authority

Related:
[PIC] Throwback Thursday: Sitting on the Back of Dad's 1966 Corvette
Cruising in the Corvette with Marilyn Monroe
Passion for a 1963 Corvette Sting Ray Passed from Father to Daughter