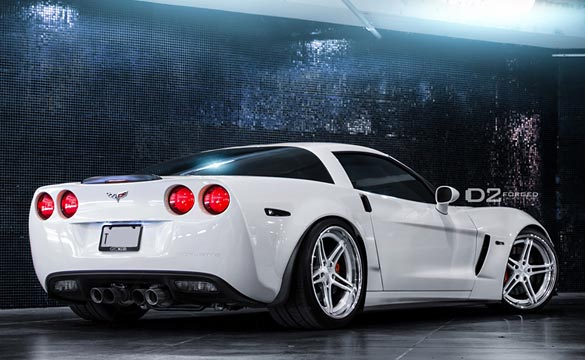 Here's a great looking set of forged custom wheels from our friends at D2FORGED.com. These are 20 inch front and rear CV3-LP wheels mounted on an Arctic White 2011 Corvette Z06.
From the factory, a Corvette Z06 was set up with 19″ front wheels and 20″ rear wheels. D2FORGED CV3-LPs on this Z06 are 20×10″ front wheels and 20×13″ rears. The wheels have a brushed aluminum centers with a chrome lip finish. The CV3-LPs are lightweight too with the fronts weighing 20 lbs each while the rears weigh 21 lbs each.
Here a gallery showcasing D2FORGED's CV3-LP Lightweight Wheels
If you like these, head over to D2FORGED.com and use the dealer locator to find a retailer near you. You can also call 800-913-3513.

Source:
D2FORGED.com

Related:
[PICS] Red C5 Corvette on D2FORGED FMS05 Wheels
[PICS] C5 Corvette Convertible Widebody on D2FORGED CV2 Colormatched Wheels
[PICS] Corvette Z06 with D2FORGED MB1 Wheels