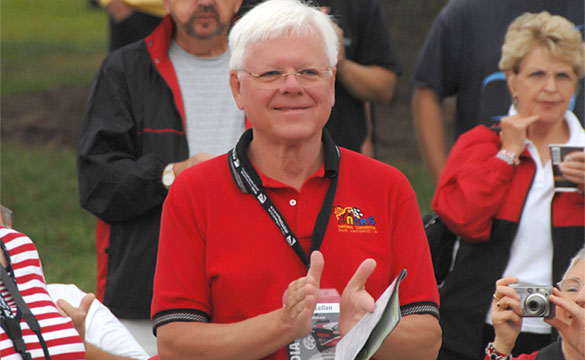 Our friends at Mid America Motorworks recently announced that they've setup a college scholarship in the name of Dave McLellan. McLellan was the 2nd Chief Engineer on the Corvette program and helped bring the C4 ZR1 to life among other achievements. The fund, known as the David R. McLellan Engineering Endowed Scholarship will support mechanical engineering students at Wayne State University – McLellan's alma mater in Detroit.
The newly established scholarship will benefit each year from the Corvette Funfest Charity Event. This year's honoree just happens to be Dave McLellan.
"Dave is not only a friend, but someone I respect for what he has contributed to the Corvette platform," said Mike Yager, Founder and Chief Cheerleader of Mid America Motorworks. "My hope is that this scholarship will assist young enthusiasts enrolled in the Mechanical Engineering program to become the future of Corvette Engineering."
McLellan earned a Mechanical Engineering degree from Wayne State in 1959 and promptly began working at the GM Noise and Vibration Lab at the Milford Proving Grounds. Roughly 16 years later, in 1975, he became the 2nd Corvette Chief Engineer after working for several years under Zora Arkus Duntov. In total, he served 17 years at the top of the Corvette engineering food chain. He's most widely known for the development of the ZR1 and his book. "Corvette from the Inside". Under his leadership, the Corvette team also introduced tuned-port injection, reintroduced the convertible Corvette in 1986, designed the 300hp LT1 engine, and led the early design work on the C5 program.
Dave McLellan will be honored at Mid America's annual Corvette Funfest Charity Event which will be held Friday, Sept. 20th. The event will take place in the MY Garage Museum on Mid America Motorworks' corporate campus in Effingham, Ill. Proceeds from the event will benefit the shiny new David R. McLellan Engineering Endowed Scholarship.
For more information on Corvette FunFest, the Charity Event, or the David R. McLellan Engineering Endowed Scholarship swing by www.corvettefunfest.com.

Source:
Mid America Motorworks

Related:
[PICS] 2012 Bloomington Gold: The Great Hall
Former Corvette Chief Engineer Selling Wright-inspired Detroit Home
[VIDEO/PODCAST] Corvette Chief Dave McLellan Talks with Reeves Callaway