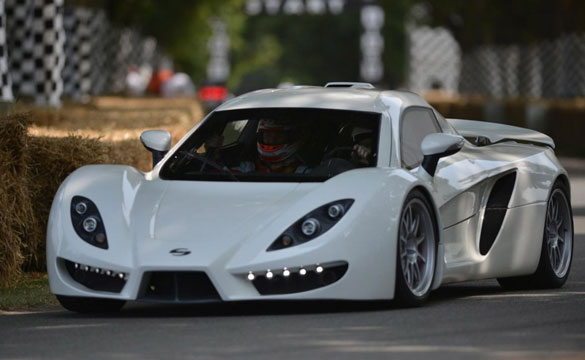 Some may say the 1960s and 1970s were the Golden Age of the muscle car.
But the figures that we keep hearing from cars of today make us think that THIS is the Golden Age for horsepower-craving enthusiasts.
Take, for example, one car you may never even have heard of – the Sin R1, which claims to deliver 0 to 60 times of 2.5 seconds with its 6.2-liter LS3 V8 borrowed from the C6 Corvette.
Remember that the upcoming C7 Corvette can manage a 0 to 60 time of 3.8 seconds, and you'll realize that the R1 promises extraordinary performance delivered by just a few million-dollar supercars – which don't have the luxury of having the simple and durable LS3 under their hoods!
The R1 takes advantage of its extremely light weight (just 2,645 pounds thanks to a spaceframe chassis and carbon fiber passenger cell) to turn its 525 horsepower from the Corvette engine into those supercar-caliber numbers. It uses a six-speed manual lifted from a Porsche 911 GT2 and offers 19-inch alloy wheels from Braid, AP Racing brakes, and OMP racing bucket seats.
First unveiled at the 2013 Autosport International in January, the R1 impressed the crowds at last weekend's Goodwood Festival of Speed hosted by the Earl of March at his Goodwood House manor. The event attracts 150,000 to the English countryside for several days of spectating. The official website calls it "the largest motoring garden party in the world – a unique summer weekend that brings together an impossibly heady mix of cars, stars and motor sport 'royalty' to create the largest car culture event in the world."
The Munich, Germany-based Sin developed the R1 in cooperation with the British-based ProFormance Metals. After its early days as a builder of race cars for private customers, Sin is now expanding to make turnkey models.
You can see even more photos of the 2013 Sin R1 in action at the Goodwood Festival of Speed at MotorAuthority.

Source:
MotorAuthority.com

Related:
Check out the Latest Callaway C16
Milwaukee's Bennett Coachworks Creates the ZR1-Based 860hp Corvette ZX-1
2009 SV 9 Competizione Headed to Mecum Monterey