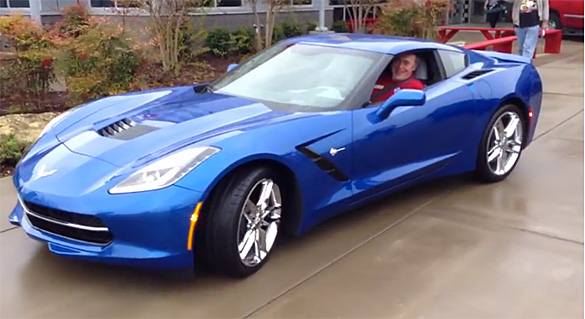 At the conclusion of the National Corvette Museum's annual Bash event, the Lagnua Blue Corvette Stingray Coupe and the Night Race Blue Convertible were taken outside and loaded onto an auto transporter for destinations unknown. We were still at the NCM just after 5pm on Saturday when we noticed the staff was preparing to move the Corvettes. Lucky for us, we caught the whole event on video.
The first Stingray to be moved outside was the Laguna Blue Coupe. Bob Bubnis, the editor of the NCM's America's Sports Car magazine had the honor of driving the new Corvette out the door. He took it around the corner and parked it. The Reliant Auto Transport driver then loaded the Stingray onto the trailer's top level.
Then it was the Corvette Stingray Convertible's turn. The Night Race Blue Corvette was driven out of the building by Adam Boca of the NCM Insurance Agency. Not only do we witness the start up and exhaust note, but we also captured the top going up as well.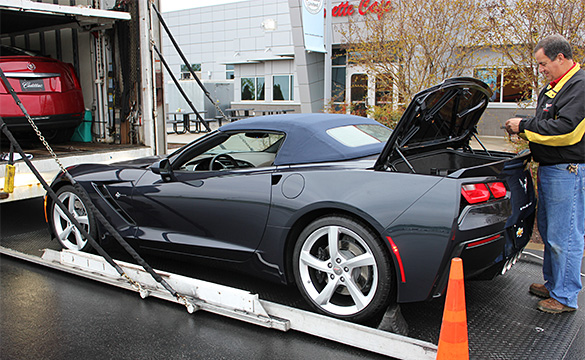 Both Bob and Adam gave CorvetteBlogger.com a shout out and its much appreciated. But tonight it was you guys living the dream. Funny how America's Sports Car can turn grown men into boys again. Not only from these newly crowned celebrity drivers who both checked off the boxes on their bucket lists, but the dozen or so of us standing in the rain to watch a car get loaded onto a tractor-trailer.
Check out the video of the 2014 Corvette Stingray Coupe and Convertible leaving the National Corvette Museum's Bash.
If you watched the whole video, you would have noticed the transporter also contained a Torch Red 2014 Corvette Stingray Coupe and the Cadillac ELR extended range vehicle. The Torch Red Corvette looked to be the show car from the Detroit Auto Show, but we were unable to verify the VIN. We did note that it had the Carbon Fiber roof panel, unlike the Torch Red Coupe we found Friday parked over at the Corvette Assembly Plant.
Related:
Five 2014 Corvette Stingrays at the Bowling Green Assembly Plant
[PIC] Engineers Test the New C7 Corvette Stingray in the Rain
[PICS] Torch Red C7 Corvette Stingray Spotted in Phoenix