Jerry and Felicia Mulick of Illinois have the best of both worlds with their Marina Blue 1967 Corvette convertible.
They've got the classic looks of what some consider one of the most beautiful cars ever made, but raise the hood and you'll see that they've got the modern convenience of a powerful C6 LS2 V8 engine that cruises down the interstate sipping a gallon about every 30 miles.
"It's always fun to drive somewhere and have people admire the car, but then they open the hood, which always leaves them breathless," Jerry said.
Jerry actually bought a new 1966 Corvette back in the day but sold it after he got married. He always remembered the fun he had with the car, though, and vowed to have another one someday. That day arrived in 1987 when he bought a 1967 convertible – complete with cold air conditioning (something that was not on the option list in his original 1966).
He enjoyed the '67 for years without making any major changes, but when a crack in the body appeared under the windshield, he decided to take the plunge and do a body-off restoration, including the aforementioned engine swap as well as a new Tremec manual transmission. Not to worry, though, the old 327 engine and trans are still resting safely at his home.
"With most modified cars, the changes are so drastic, it can't be brought back to original condition. It's not practical or cost effective," Jerry said, noting that the LS2 engine was a perfect fit without having to cut any panels. "We wanted our Corvette to change but still look like it did when it came from the factory. The engine and trans are safely stored at home so any time we want, we can change it back."
Other options on the car are power steering, windows, and brakes, headrests, and telescoping steering wheel, along with side exhausts that deliver a beautiful sound to the Mulicks' ears and those lucky enough to be nearby.
"The driving experience is out of this world," Jerry says.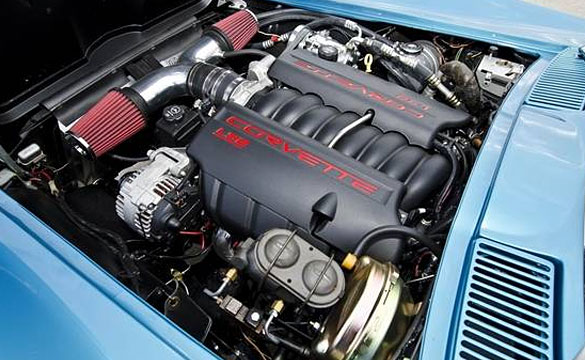 Source:
DailyHerald.com
Photo Credit: Prestige MotorCar Photography
Related:
Longtime 1967 Corvette Field Car to Finally Undergo Restoration
Canadian Corvette Owner is in Absolute Heaven with his Restored 1957 Corvette
Man Creates Slideshow to Convince Wife to Buy a Corvette Z06