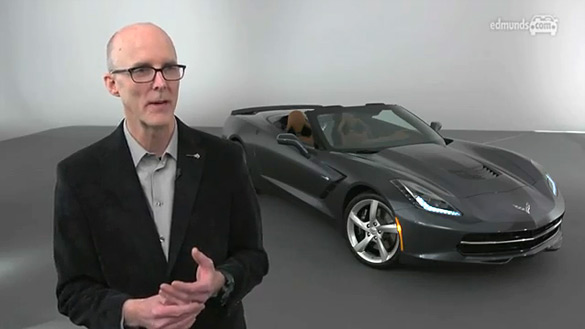 A few weeks prior to the Geneva Motor Show, the folks over at Edmunds got a sneak peak of the new C7 convertible Michigan. During their visit they also spoke to GM's Director of Exterior Design, Tom Peters. In the 4 and a half minute video after the break, Peters and Edmunds' Alistair Weaver discuss the merits of the all new topless Corvette.
The video opens with Peters discussing the new convertible and how it needs to appeal to all of the driver's senses in order to enhance the driving experience. Another interesting tidbit is that the roadster has no additional structural reinforcements when compared to its coupe sibling.
We also get to see the actual top function through its full range of travel. The C7 replaces the rear-hinged tonneau panel of the C6 with a new mechanism that lifts the panel and moves it rearward parallel over the rear deck. Once the tonneau panel is out of the way the top lowers itself and stores neatly in its covert resting place. The manual front release latch has been replaced by a powered unit.
Later in the video it's mentioned that the new Stingray Convertible is actually lower than the Porsche 911. They also talk about the 3-ply exterior top cover material and the mattress pad below it which is included in the construction of the new top assembly. Finally Peters talks about how important it is to call on design cues from the past and build on them to create a new heritage on the new generation of America's sports car.
The 2014 Corvette Stingray Convertible will be arriving at dealerships late this year a few months after the 1st coupes cruise of the lots.
The entire video from Edmunds is below.

Source:
YouTube

Related:
Introducing the 2014 Corvette Stingray Convertible
Great Automotive Rivalries: 911 vs. Corvette
[VIDEO] GM Design Director Tom Peters Defends the 2014 Corvette Stingray's Tail Lights