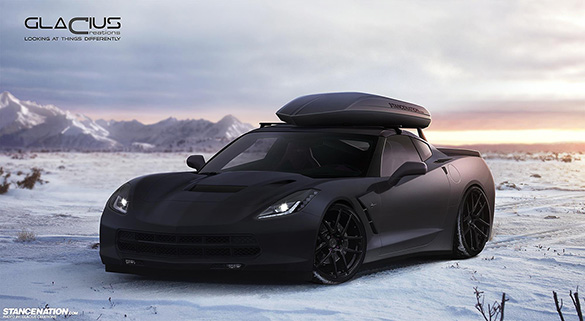 So if you were to tell your Corvette friends that you want to put a cargo carrier on the roof of the new 2014 Corvette Stingray, they would probably call you crazy. But then you pull this rendered pic out of your pocket and show it to them and they will say that's the coolest thing ever.
The photo was rendered by Glacius Creations and posted on Facebook by Stance Nation. The black Corvette Stingray is featured wearing ADV.1 wheels.
Oh, and a note to Kirk Bennion on the Corvette Team: All Corvette Stingray's should be matte black.
Click here to see a larger version of the photo.

Source:
Stance Nation on Facebook

Related:
[VIDEO] 2014 Corvette Visits Jay Leno's Garage
[PICS] Black Corvette Z06 Looks Awesome on D2Forged Wheels
Is this the 2014 Corvette Stingray Convertible?