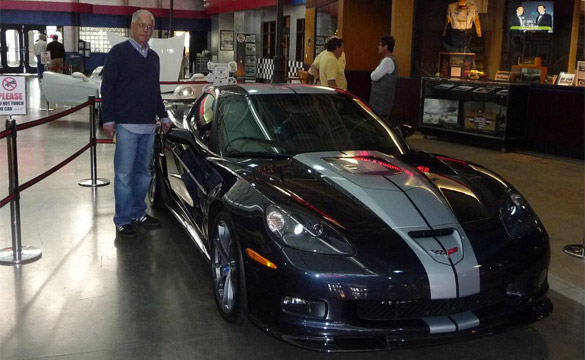 Longtime Corvette Museum supporter Harvey Gluck just picked up his 63rd Corvette and this one is a stunner. It's a 2013 Corvette ZR1 in Night Race Blue with a 60th Anniversary stripe running down the body. Harvey was presented with the ZR1 at the National Corvette Museum by Corvette Marketing Manager John Fitzpatrick.
The photos of the special ZR1 were posted on the Corvette Forum. Harvey posted the following:
I will have to get some side views of the Wheels…but its my understanding that the Wheels are the one's that go with the Cup tires which I did not take…..The stripe is the 60th with a different shade of grey in the background………..Does look great especially in the Sunlight…that will do it for me as far as the C6 goes—so its going to be along haul till C7 arrives (god Willing)……Do not have it to bad though with the ZR1 the Zl1 Convertible and the new Beetle for those messy trips…….Want to Thank Everybody out there for there Support, and positive Quotes about me……."GOD BLESS THE CORVETTE" # 63……Harvey
To make room for the new ZR1, Harvey sold his 60th Anniversary 2013 Corvette 427 to a Corvette enthusiast in Canada.
That's how you get to own 63 Corvettes – always buying and eventually selling to buy another!
As a personal note, I met Harvey at the NCM Bash two years ago. A very nice guy and a diehard Corvette fan. We know Harvey will be enjoying his new ride. At least until the C7 comes along!

Source:
Corvette Forum
Related:
[PICS] The Corvette Racers of the 2012 Muscle Car and Corvette Nationals
[VIDEO] 2013 Night Race Blue 427 Convertible Corvette Walk Around
[VIDEO] SEMA 2009: Camaro's John Fitzpatrick Shows Off The Genuine Corvette Accessories Display