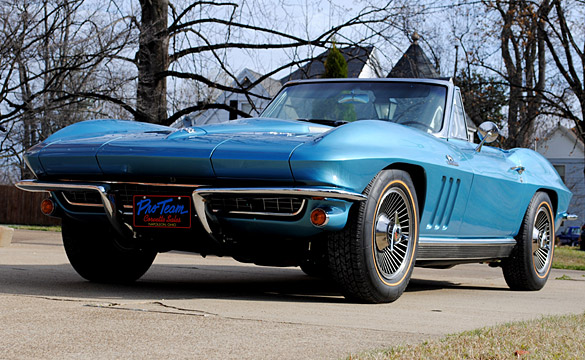 Want to support a great cause and maybe win a classic 1966 Corvette? There are a limited number of tickets still available for the 24th Annual Classic Corvette Giveaway benefiting Saint Bernard Parish and School in Rockport Indiana. This year's raffle car is this 1966 Nassau Blue Corvette convertible valued at $80,000.
The Corvette is matching numbers with a 427/425 V8 mated to a M21 manual 4-speed transmission. Other options include 3.70 positraction, F41 special heavy duty brakes and knock-off aluminum wheels, stainless steel brakes, AM/FM radio, hazard warning flasher, seat belts, tinted windshield and Coker classic gold stripe radials.
The Corvette was purchased from ProTeam Corvette in Napoleon, Ohio in November 2011. This show-ready Corvette was fully restored by ProTeam in 2008 and is in excellent condition.
The Corvette hotline number to order tickets is 812-362-7313. Ticket orders may also be downloaded from the parish website at www.StBernardCorvette.org. Make sure you check out the photo and video tours of the '66 Corvette while you're there! The cost of each opportunity is $30.00 or 4 for $100.00. Only 10,000 tickets will be sold and the raffle is close to selling out.
"We've sold tickets from as far away as Australia, New Zealand, Italy and Austria," said David Lovell of Saint Bernard Parish. "This is a great opportunity to win a classic Corvette and we'll be selling tickets up until the drawing time unless we sell out first."
The annual raffle has become a key fundraiser for the church who uses the proceeds to help fund the Saint Bernard Elementary School and daycare programs at their Rockport location.
The winning tickets will be drawn at the Summer Social and Classic Car Cruise-In held on Sunday, July 8th at 5:00 p.m. CDT. You need not to be present to win, but you must be 18 to participate.

Source:
Saint Bernard Corvette Raffle

Related:
Saint Bernard's Classic Corvette Giveaway
[VIDEO] Raffle Winner Picks Up 1965 Corvette Convertible