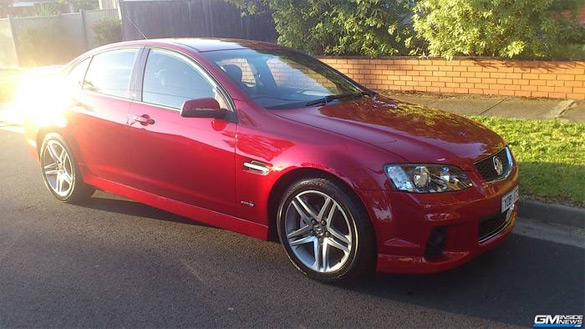 Some 55 years ago, Chevrolet first used the SS (Super Sport) designation on a prototype Corvette race car built under the watchful eye of Zora Arkus-Duntov.
Now the automaker is bringing the SS back, only this time in a modern V8-powered, rear-wheel-drive performance sedan.
Chevrolet made it official this week that the SS will indeed be its next NASCAR Sprint Cup race car, debuting in its race configuration at the 2013 Daytona 500.
The SS will be derived from GM's global architecture that has spawned high performers like the Camaro and Holden's upcoming VF Commodore, a much-anticipated Australian-built car that will have the benefit of significant technology advances, including innovations in light weighting and fuel efficiency.
The SS, derived from the Commodore, will be the first rear-wheel-drive sedan offered by Chevrolet in the U.S. in 17 years and will be a 2014 model, arriving in showrooms late next year.
The SS moniker carries much weight in the Chevrolet world. That initial Corvette SS was a great performer but was retired in the midst of an industry-wide ban on factory-produced racers. The first production model with the SS option was the 1961 Impala – 453 were built with the performance upgrades which included a modified chassis and suspension, power brakes, a steering column mounted tachometer and unique wheels and tires. The latest SS model in the Chevrolet lineup is the fifth-generation Camaro, which debuted in 2010.
"As a passionate race fan and performance enthusiast, I am thrilled that Chevrolet will deliver a true rear-wheel-drive NASCAR racecar in the SS that is closely linked to the performance sedan that will be available for sale," said Mark Reuss, president of GM North America. "The Chevrolet SS is a great example of how GM is able to leverage its global product portfolio to deliver a unique performance experience that extends beyond the track. I am personally looking forward to driving it."
GM Holden's Executive Director of Engineering Greg Tyus, said Chevrolet and its customers would benefit from Holden's proven expertise in developing and manufacturing rear wheel drive vehicles. "Holden has a great track record of producing performance cars for GM and the world," Tyus said. "We were responsible for the design and engineering of the Chevrolet Camaro, VECommodore was sold as the Pontiac G8 and we are currently exporting the Chevrolet Caprice Police Patrol Vehicle – so we understand the needs of the North American market."

Sources:
General Motors
GM Inside News
Carsguide.com
Related:
[VIDEO] John Buttermore – Sonic Development Engineer and SCCA Corvette Racer
[VIDEO] Why the C7 Corvette Needs Cadillac's New CUE Infotainment System
[VIDEO] 2012 Camaro ZL1 Runs the Nurburgring in 7:41.27