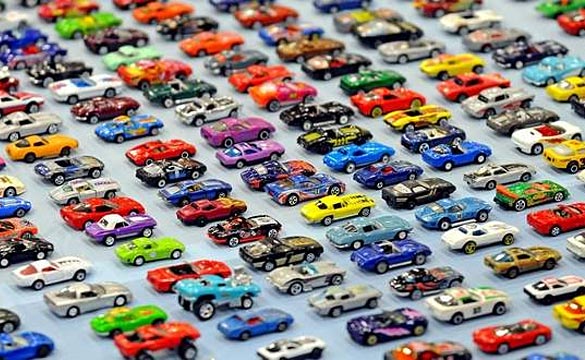 Charlie Mallon's infatuation with Chevrolet – and Corvettes – started 40 years ago, and now his love for the Bowtie brand may just land him in the Guinness Book of World Records.
The Pennsylvania auto dealership consultant has been collecting Chevrolet items of all kinds since he was 14 years old. Now 54, he has so many items in his collection – Chevrolet signs, racing flags, coffee table books, soda cans, hats, belts, shirts, playing cards, drinking glasses, posters, tractor trailers, a biplane, and thousands of miniature cars – that he recently decided to see if he really has amassed more Chevy stuff than anyone else in the world.
Last Wednesday night he laid out 2,181 different Chevrolet items in the gym at Downingtown West High School in Pennsylvania in an attempt to establish a benchmark in what would be a newly created Guinness World Records category for "Largest Collection of Chevrolet Memorabilia." Most of his collection centers on the Corvette, his favorite Chevy product since he was a youngster.
"I appreciate all cars, but there's something special about the Corvette," Mallon said. "It's the look. It's the sound. It's the mystique. Everything about the Corvette makes it the American sports car."
Mallon displayed thousands of miniature cars, but he's not just into replicas. He also drives a 2005 Corvette coupe and earlier owned a 1965 Corvette. "Corvettes have always turned my head," Mallon said.
Of course, it's not easy to earn a Guinness record. To qualify, he had several witnesses, including a certified public accountant, verify the number of items in his collection and he'll submit a formal application to Guinness for review. It may take weeks for him to find out if he is a record-setter, but says even if he isn't, he just appreciates the chance to "validate my insanity to my wife," he said.
"I guess it's just a personal challenge," Mallon said. "It always blows people away when they walk into my basement and see all the items. I've been collecting so long that I wondered if I had the most."

Sources:
DrivingNortheast.com
Photo Credit: Tom Kelly/DailyLocal.com
Related:
NCM Auctioning Unique Zora Collectible Hot Wheel Corvette
[VIDEO] Kerbeck Corvette's Toys for Tots Run 2009
[VIDEO] Louis Chevrolet – The Early Beginnings