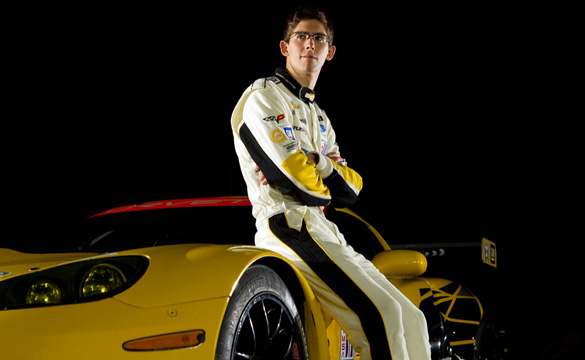 A little virtual reality has helped Jordan Taylor prepare for test drives with Corvette Racing.
Taylor turned to iRacing to get a feel for the Corvette C6.R at Sebring, and the preparation paid off when Corvette asked him to drive with Jan Magnussen and Antonio Garcia in three classic endurance races this season.
"When I was asked to test for Corvette, the first time was going to be at the Sebring short course and I hadn't been there for probably two years," he explains. "So I got right on iRacing, went to the short course and did probably fifty or sixty laps just to get my mind around it and get used to the brake points. So when I went to the test, all I had to do was learn the car and not worry about getting used to the track again."
Taylor will be competing this season in the 24 Hours of Le Mans, Petit Le Mans, and Saturday's Mobil 1 Twelve 12 Hours of Sebring Fueled by Fresh from Florida.
He practiced again on iRacing for another test at Infineon Raceway, "just doing laps there every day to familiarize myself with the corners, the elevation changes, where you have the blind corners, which curbs you can use, and placement of the car over the crests."
Taylor says that using iRacing allowed him to focus on learning the car once he got to the tracks – "the tracks I had pretty much down before I turned a lap in the real Corvette."
Taylor knows this is a huge opportunity with Corvette racing. "When you think of sports car racing, or even racing itself, you think of Le Mans and all the success Corvette had enjoyed. Just countless victories and championships, so to join them for Sebring, Le Mans and Petit Le Mans with Jan and Antonio is for sure a big opportunity. It comes with a lot of pressure but for sure I'm ready for the challenge."
Of course, it doesn't hurt that his father Wayne has trophies from Sebring, Le Mans, and Petit Le Mans, and Jordan says he's "always happy" to listen to advice from his dad – "especially going into these races – Sebring, Le Mans and Petit Le Mans. He's won all three of them.
"So it's great to be able to pick his brain about these things and how to get to the end of these races in a position to win them and always staying in contention in endurance events," Jordan says. "To have my dad being that guy who has been in these positions, he's the perfect mentor and coach to have – and it's great to have him in the next room anytime I have a question."
Sponsored By:


Bondurant School of High Performance Driving

Source:
IRacing.com
Related:
Corvette Racing to Debut New Wide-Body Race Cars in Sebring Season-Opener
[PICS] Corvette Racing Team Pictures from Sebring's Winter Test
Jordan Taylor Joins Corvette Racing as Team's 2012 Roster Is Set