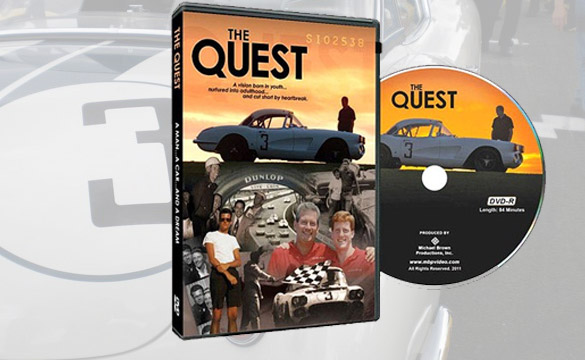 If there is a "one size fits all" gift we can recommend for your favorite Corvette enthusiast, it's the DVD documentary called "The Quest". Based on the story of Corvette's first win at the 24 Hours of Le Mans, "The Quest" tells the story of how one man's dream to find and restore the winning Le Mans race car was cut short and how his son set out to fulfill his dad's dream of returning the Corvette to Le Mans with its original driver to mark the 50th anniversary of its historic win.
"The Quest" re-visits the 1960 race through color film shot at the time. It also re-creates what happened to each of the four Corvettes after they disappeared for decades. Never before seen footage, photos and interviews help bring this amazing story to life.
As collectors and restorers recognized the historical importance of the former racing Corvettes, they went looking for them. Chip Miller, renowned collector and co-founder of Corvettes at Carlisle, set a goal of finding and acquiring the #3 class-winning 1960 Corvette…with a dream of restoring it and taking it back to Le Mans in 2010, with John Fitch, one of its original drivers.
Within only a few years of completing his dream, Chip Miller died from an extremely rare disease called amyloidosis. His goal was cut short in 2004. But his son, Lance, picked up Chip's quest and took the car and its driver back to Le Mans in June of 2010…marking 50 years of Corvette Racing at Le Mans…and fulfilling his late father's dream.
"The Quest" is a heart-warming story of visions cut short, obstacles to success and a son's love of his father. The documentary has something for everyone… whether hard core car enthusiast or someone who just loves a good story.
You can purchase "The Quest" on DVD for $20 at The Quest Documentary. It's also available from our friends at CorvetteCentral.com.

Related:
Christmas and Corvettes: Something for Everyone at Zip Corvette Products
Christmas and Corvettes: Corvette Central Has the Gifts You're Looking For
[VIDEO] Santa's New Sleigh from Kerbeck Corvette
Christmas and Corvettes: Interior Products from Corvette America
Christmas and Corvettes: Gift Ideas from CorvetteGuys.com