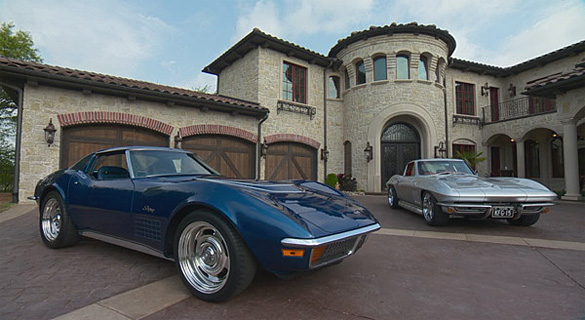 Article contributed by Steve Burns
Get those DVR's programmed to catch this week's episode of My Classic Car featuring Dennis Gage. This week the certified car nut travels to McKinney, Texas to check out (and of course drive) a cool C3 and a fantastic C2 Restomod.
Each week we follow Dennis as he travels the world visiting various car shows and collections encompassing a wide variety of the collector car hobby. This week we're lucky to see a couple of cool Corvettes on the show which airs this Sunday at 10pm eastern on Speed.
Details about the cars are expectedly absent on the MCC website and in the preview video, but we'll speculate here anyway. The C3 appears to be a mildly customized and very rare 1972 LT-1 coupe with air conditioning finished in Targa Blue. We're partial to LT-1's here at CorvetteBlogger so we're especially looking forward to seeing this ride on TV. The silver on red C2 looks to be a 1966 with an LS1, side pipes and a whole lot of awesome.
Check out the teaser video and then tune in to SPEED this Sunday at 10pm eastern to see some cool vettes race across your television. Re-airs are scheduled for May 16th at 4am, May 17th at 3pm, and May 22nd at 10:30am. All times are eastern.

Source:
My Classic Car
Related:
[PICS] 1976 Corvettes Customized on SPEED's Car Warriors
Racing Legend Tony DeLorenzo to be Reunited with His 1967 L88 Corvette