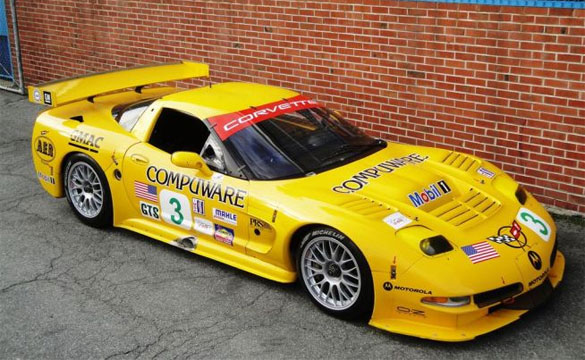 Well, you just don't see these early Corvette Racing C5Rs available for purchase all that often. Offered on eBay is the Pratt & Miller 2001 Corvette C5R chassis #005. The Corvette was first raced at Infineon Raceway in May 2002 by Ron Fellows and Kelly Collins, capturing a win at this first event. Chassis #005 would add wins at Mid-Ohio, Washington DC, Mosport and Petit Le Mans to close out the 2002 ALMS season. In 2003, Ron Fellows, Johnny O'Connell and Franck Fréon would pilot this C5R to a class win at the 12 Hours of Sebring.
According to the well-written auction description, in 2006, Chassis #005 became the first of the Pratt & Miller C5Rs to be sold to a privateer – Belgium's Selleslagh Racing Team. The Corvette was successfully campaigned in the 2006 Belcar GT Series which culminated in an overall victory at the 24 Hours of Zolder.
During its time in Europe, Selleslagh set aside the original Corvette Racing yellow livery and raced under their own paint scheme. Following its retirement, the Corvette Racing livery panels were returned to the car and it was sold to a collector in 2008.
The car is also accompanied by considerable documentation including confidential setup data, supplier lists, FIA homologation paperwork, correspondence with Pratt & Miller, and start up procedures.
Now the Corvette is being offered on ebay. Eight bids at the time of this writing has the Corvette still short of the reserve at $175,600. The auction ends on January 14th at 13:33 PST.

Source:
eBay
Related:
1962 Gulf Oil Corvette Sells for $1.485 Million at Pebble Beach
Racing Fans – Buy Your Own Corvette C6.R Racecar