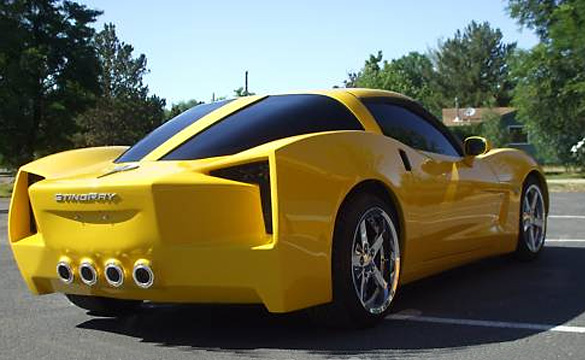 Check out this former 2008 Hertz rent-a-car Corvette ZHZ that has been customized to look like the 2012 Corvette Stingray Concept that appears as Sideswipe in Transformers 2: Revenge of the Fallen. The Corvette is listed on eBay and with 3 days left in the auction, 6 bids have run the price up to $35,200 with the reserve not yet met.
Built by Z and M customs in Boise, Idaho, this Stingray Concept was fabricated with the real world in mind. No chopped tops or Lambo doors, the concept tribute comes with its stock 430 hp LS3 V8 with a 6-Speed paddle shift Automatic and extra large drilled brakes. In addition to the custom body panels and stingray emblems, the Corvette has also received a custom exhaust, air-intake system and the computer was retuned for an estimated performance gain of an additional 30 horsepower.
Inside you will find a basically stock Corvette expect for the custom embroidery on the seats, dash and steering wheel. Other upgrades include an electric tilt front end and custom complete LED lighting system.
Check out the eBay listing for more pictures and bidding information.

Source:
eBay
Related:
[VIDEO] Transformers 3 Sideswipe in Alt Mode as the Convertible Corvette Stingray Concept
[PICS] Transformer's Corvette Stingray Concept Revealed in Chicago