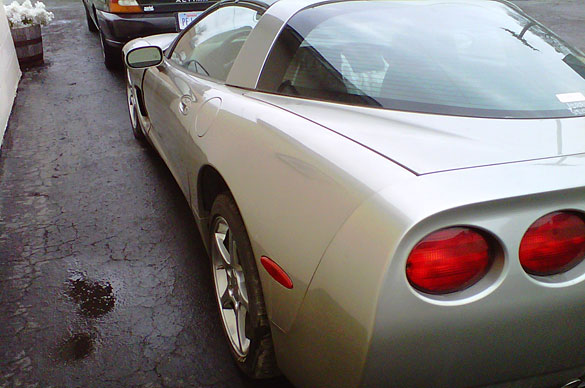 Most of our Corvette Values submissions deal with classic Corvettes so its refreshing when we get to take a closer look at something a bit more modern. MW of Nebraska submitted this 1998 Silver Corvette Coupe to Corvette Values because his bank required a Corvette Appraisal to cover the value of the loan:
1998 Corvette Coupe. VIN 1g1yy22g3w5120XXX. Silver with Black leather interior. 6-Speed manual transmission. 64,400 miles. All original with no mods other than a Corsa exhaust. Mechanicals and body listed as in Good condition. Original owner history is available but no sales documentation exists.
Find out how we valued this Corvette after the jump.

The 1998 Corvette was a new body style commonly referred to as a C5 Corvette. It was introduced in 1997, with production of this body style ending in 2004.
Just over 21,000 Corvettes were produced for the 1998 model year. This Corvette, VIN # 1G1YY22G3W5120XXX, indicates it was built well into the 1998 model production year.
Any changes or modifications made during the 1998 production were most likely included in this Corvette. It has 64,433 original miles, considered low for a 1998 vehicle.
It is powered by the original LS1 motor rated at 345 horsepower and a 6 speed manual transmission. The transmission can be considered somewhat of a rare option, being selected by 23% of the 1998 Corvette buyers.
It is Sebring Silver Metallic in color with a contrasting Black leather interior. The paint and interior are classified as being in good condition.
The 1998 Corvette had most of the desirable features as standard equipment. These included Power Steering, Brakes, Windows, Tilt and Telescopic Steering Column, A/C and AM/FM,CD Stereo Radio System.
This Corvette is in original condition with no body or interior modifications. The only addition was a Corsa exhaust system, a common modification to C5 Corvettes.
From a history perspective, the original owner history on this Corvette is known. This could be important data for a future sale of this Corvette. However, no original documents from the building or sale of the Corvette exist.
The 1998 Corvette Coupe was introduced at a base list price of $37,495. We place a value of $14,000 in today's market on this Corvette.

Corvette Appraisals:
With rapidly changing Corvette values, make sure your insurance coverage keeps up with your Corvettes value by having it appraised online at VetteFinders.com. Our online appraisals are only $69.95 and are usually completed within three business days. Click here to start your Corvette appraisal now.

Source:
VetteFinders.com Appraisal Service

Related:
Corvette Values: 1998 Aztec Gold Corvette Coupe
Corvette Values: 1974 Corvette T-Top Coupe