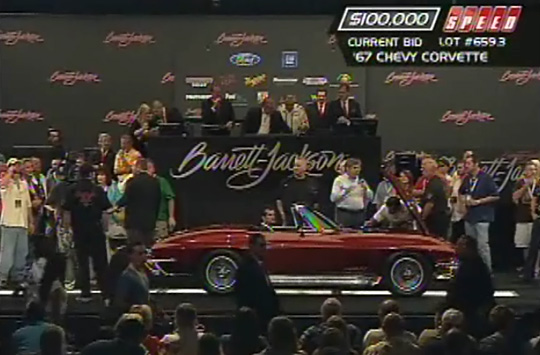 This custom maroon/black 1967 Corvette sure has a lot going for it. Celebrity ownership by an A-list Hollywood actor is just one of the reasons why we tuned to SPEED tonight. This numbers matching 427/435 horsepower L71 Corvette Convertible has all the options of the iconic 1967 sting ray: Convertible body, stinger hood, sidepipes and knock-offs. Throw in the celebrity component and you'll see why it fetched $150,000 at the Barrett-Jackson Collector Car Auction in Las Vegas.
The story which has been often repeated this weekend is that Willis purchased the Corvette in El Paso during filming of "Last Man Standing". While the Corvette is mostly stock, Bruce had the car custom-painted. An Alpine 5-CD Changer stashed in the glove box completes the customizations.
In the promotional pictures the Corvette was shown wearing a set of S/S Cragars, but at the auction you see a set of midyear knock-offs on the car, perhaps from 1966 as suggested by one of the commentators. Just goes to show that just because the catalog says so doesn't make it true. Do you own due diligence!
The '67 Corvette was previously offered at Bonhams California Classic last year where it was a no sale. Bidding on the classic Sting Ray was fast and furious at Barrett-Jackson where it finally hammered at $150,000. With the buyer's commission, the total sales prices was $165,000.

Source:
Barrett-Jackson Collector Car Auction
SPEED
Related:
Barrett-Jackson Las Vegas 2009: 1961 Corvette Convertible
Barrett-Jackson Las Vegas 2009: 1964 NOM Corvette Sting Ray
Barrett-Jackson Las Vegas 2009: 1993 Corvette Sells for $23,100
Barrett-Jackson Las Vegas 2009: Corvette Auction Schedule
Bruce Willis' 1967 Corvette Will Be Offered at Barrett-Jackson Las Vegas Auction

Technorati Tags:
Corvette | Vette | Chevy | Chevrolet | GM | Barrett | Jackson | Barrett-Jackson | Las Vegas | Collector | Auction | Sale | 1967 | Bruce Willis | SPEED