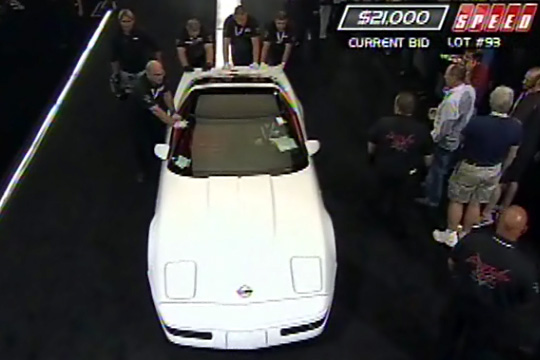 Regular production C4 Corvettes aren't really known for their collectability yet, but sometimes one comes along that piques our interest and this 1993 Arctic White Corvette Coupe did just that as it crossed the auction block on Thursday evening at Barrett-Jackson's Las Vegas Collector Car auction. Apparently I wasn't alone in my thoughts as Lot #93 was hammered for a strong price of $21,000. With the buyer's premium, the total selling price was $23,100.
The C4 Corvettes marked an interesting time period for the Corvettes and some will argue that Corvette's return to premium sports cars status started with the iconic 1984 Corvette. However, the differences between the first Corvettes of the C4 generation compare greatly to those cars after 1992 when the C4 received the LT1 350 cubic inch 300 horsepower V8 engine.
SPEED's announcers particularly liked this Corvette and called it the perfect compliment for the guy who also owned a 1953 Corvette. While we believe there are only about 150-170 of "those guys" out there with a first year Corvette in the garage, we agree that a White with Red interior Corvette does make the perfect the anniversary model even when though the true 40th anniversary models were Ruby Red.
Only 15,898 Corvette coupes were produced in 1993 so the model year doesn't suffer from over-production which keeps prices down. Arctic white was the third most popular color (3,031) coming in behind the Rub Red anniversary color (6749) and Torch Red (3,172).
This Corvette features the Corvette Preferred Equipment Group #1 option which provides electronic air conditioning, Delco/Bose music system, electronically tuned AM/FM stereo, radio with Seek-Scan, digital clock stereo cassette tape, compact disc player, blue removable roof panel, leather sport bucket seats, 6-way power driver's seat and 6-way passenger power seat.
Being in mint condition with just 26,072 miles on the odometer and documentation also helped push this Corvette's value higher.
Our Corvette Price Guide shows a high price of $15,000 for standard 1993 Corvette coupes while the high price on a Corvette convertible of the same year was more than double that at $34,500. So while the buyer paid a premium for that particular model, the price was still consistent with other models from the same year. Of further note is that we still show the standard 1993 coupes depreciation at just 6% last year which is the lowest percentage of Corvettes from 1993. The convertible models from 1993 show double-digit depreciation of 12% last year.
Based on the condition of the Corvette, we believe both buyer and seller should be happy with the outcome of this sale.

Source:
Barrett-Jackson Collector Car Auction
SPEED
Related:
Barrett-Jackson Las Vegas 2009: Corvette Auction Schedule
Bruce Willis' 1967 Corvette Will Be Offered at Barrett-Jackson Las Vegas Auction
[VIDEO] 1959 Corvette Resto-Mod Top Seller at Barrett-Jackson Palm Beach Auction Results: Barrett-Jackson Las Vegas Tops $3.3 Million in Corvette Sales
Technorati Tags:
Corvette | Vette | Chevy | Chevrolet | GM | Barrett | Jackson | Barrett-Jackson | Las Vegas | Collector | Auction | Sale | 1993 | SPEED