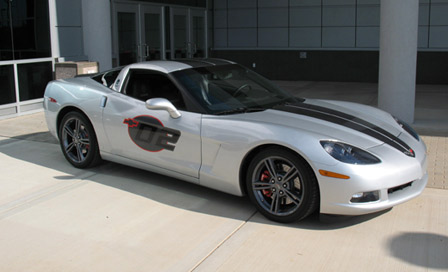 Thirty years from now Corvette collectors are going to talking about the two special edition Corvettes that rolled out of Bowling Green in 2009. That's because the two qualities collectors covet – high performance and limited production – have all but guaranteed the GT1 Championship Edition and the Competition Sport Edition a special place in Corvette history.
According to Chevrolet literature, the Competition Sport package was built for the owner who attends driving schools and track events. The edition was available in both Z06 and Z51 coupe configurations and featured performance options like the differential cooler, NPP exhaust and heads-up display.
The Z51-equipped 1LT coupe version was priced at $55,655 while the Z06 1LZ model was listed for $77,500 including charges. Only 72 CSC Corvettes were built and here is the production breakdown:

| | |
| --- | --- |
| Competition Sport | Quantity |
| | |
| Coupe – Arctic White | 13 |
| Coupe – Blade Silver | 39 |
| Z06 – Black | 10 |
| Z06 – Blade Silver | 10 |
| | |
| Total: | 72 |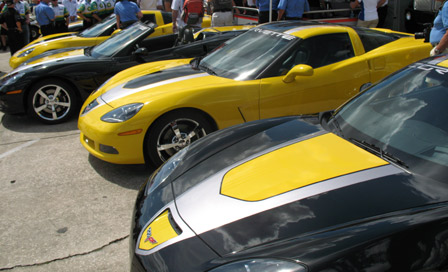 The GT1 Championship Edition was built to commemorate the 10 years of Corvette Racing's successful run in the American Le Mans series. That run included over 70 victories, eight GT1 Manufacturer Championships and five GT1 class victories at the 24 hours of Le Mans.
Essentially there were six versions of the GT1 Championship Corvettes built. The GT1 Championship Edition was available in Coupe, Convertible or Z06 models with your choice of Velocity Yellow or Black. And because it was a commemorative model, the GT1's race inspired graphics feature Corvette Racing's Jake mascot ghost-painted on the hood bulge as well as years of the championships and driver's National flags.
Pricing for the GT1 Championship Edition started at $65,310 for the 4LT Coupe, $71,815 for the 4LT Convertible and $86,385 for the 3LZ Corvette Z06. Although 600 were planned for production, only 125 were built. Here is the production breakdown:

| | |
| --- | --- |
| GT1 Championship Edt | Quantity |
| | |
| Coupe – Black | 24 |
| Coupe – Yellow | 29 |
| Convertible – Black | 7 |
| Convertible – Yellow | 10 |
| Z06 – Black | 17 |
| Z06 – Yellow | 38 |
| | |
| Total: | 125 |

Sponsored by:
Kerbeck Corvette
Related:
Introducing the Limited Edition 2009 Competition Sport Corvette
Officially Official: The 2009 Corvette GT1 Championship Editions
My Hot Lap Around Sebring in a 2009 Competition Sport Corvette

Technorati Tags:
Corvette | Vette | Chevrolet | Chevy | GM | 2009 | Competition | Sport | Championship | ALMS | Limited | Edition | C6 | GT1 |