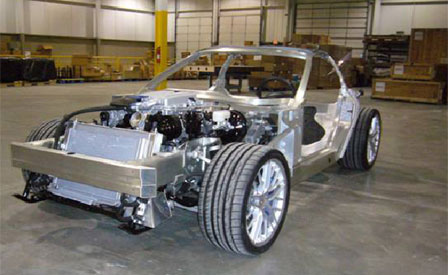 As part of GM's housecleaning of the famous Heritage Collection, several rolling chassis are being made available for public sale including this unique 2008 Corvette ZR1. The chassis appears to be complete but there is no mention on whether or not its functional. The chassis will appear on the block at the 2009 Barrett-Jackson auction which kicks off next week.
During January 2008's Detroit Auto Show, GM displayed a Corvette ZR1 chassis with a display that pointed to various elements that went into the design and construction of the supercharged 6.2L Corvette ZR1. While the auction description doesn't mention it, I'm speculating that this could be the same chassis.
The auction description states the chassis cannot be titled or licensed and may not be driven on public streets. No certificate of title is provided and only a bill of sale will accompany the vehicle.
Two other chassis are also being made available at Barrett-Jackson including a 2004 GM Kappa chassis which is the basis of the Pontiac Solstice and the Saturn Sky and a 1931 Oldsmobile chassis which was the backbone of six different Oldsmobile models that year.
As stated, the 2009 Barrett-Jackson kicks of next week with autos hitting the block on Tuesday, a day earlier than previous years. Check back with CorvetteBlogger as we are preparing the schedule for all Corvettes currently listed on the Scottsdale docket.

Source:
Barrett-Jackson via Car Domain Blog
Related:
Corvette Auction: GM to Sell Part of Heritage Collection
Corvette ZR1's Chassis and LS9 Engine Cutaway Displays
Technorati Tags:
Corvette | Vette | ZR1 | Chassis | 2008 | Auction | GM | Barrett-Jackson | Heritage | Collection |