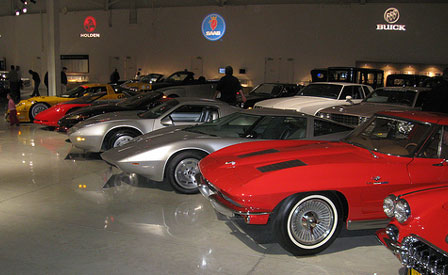 Looking to make some quick cash, GM announced a corporate garage sale where they'll be selling off approximately 250 of the slightly less important and more recent collectibles from the Heritage Collection – the automaker's corporate museum. The collection will be offered over several auctions starting with Barrett-Jackson's Collector Car Auction in Scottsdale, Arizona in mid-January. A non-official list of cars is circulating with 30+ Corvettes on it including several 1989 Corvette ZR-1s and a bevy of Pace Cars.
GM hasn't finalized the list of vehicles to be sold, and Tom Freiman, manager of the Heritage Center calls the list of vehicles that is circulating the internet as "in-accurate". GM is not expected to sell any car that is one of a kind or is a milestone, so a couple of the early ZR-1s might not be included. Here is the non-official list of Corvettes:
1989 Corvette DR-1
1989 Corvette Snake Skinner
1989 Corvette Splash
1989 Corvette ZR-1
1989 Corvette ZR-1 (Dark Red)
1989 Corvette ZR-2 Big Doggie
1990 Corvette Right Hand Steer
1990 Corvette ZR-1 Active
1991 Corvette Convertible
1992 Corvette ZR-1 First Built (Red)
1993 Corvette LT-1 Spyder
1994 Corvette (Teal)
1994 Corvette HO
1997 Corvette Alpha Build
1997 Corvette Beta Build
1997 Corvette Tiger Shark
1998 Corvette First Built
1998 Corvette X-plorers
1999 Corvette C5R Show Car
1999 Corvette Shark
2000 Corvette Z06 Race
2003 Corvette Lemans Pace #3
2004 Corvette Indy Pace
2005 Corvette Atlantic
2005 Corvette Pacific
2007 Corvette Z06 First Built (Red)
2007 Corvette Indy Pace Car (Copper)
2008 Corvette Indy Pace Car (Black)
Corvette C5 Display Chassis
Corvette Purple Smash
Corvette Racing Boat
Corvette Trailer
Corvette ZR1 Rolling Chassis
Corvette ZR 1 Snake Skinner
GM has been thinning out its Heritage Collection over the last few years and most recently we watched the sale of several Corvette Pace Cars at October's Barrett-Jackson Las Vegas auction. In additon to January's Scottsdale auction, some of the GM collection will be sold at Barrett-Jackson's Palm Beach auction in April 2009.

Source:
jalopnik via HRFBody
cartoonsRcool
Related:
[VIDEO] Corvettes Galore Inside the GM Heritage Center
Auction Results: Barrett-Jackson Las Vegas Tops $3.3 Million in Corvette Sales

Technorati Tags:
Corvette | Vette | Auction | GM | Heritage | Collection | Bailout | Barrett-Jackson | ZR-1 | Pace Car