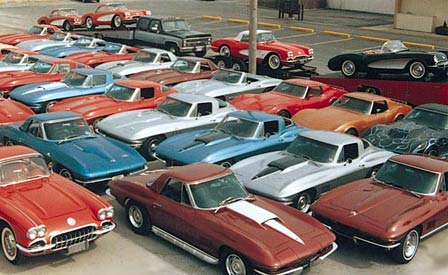 I received the monthly email from Proteam Corvettes and had to read the first paragraph three times to make sure it was saying what I thought it was. I still didn't quite believe it so I fired off an email to Terry Michaelis and he confirmed what I read: Terry and his brother Fred are putting the world-renowned dealership and its collection of 200 classic Corvettes up for sale.
Terry says they've been kicking around the idea for several years and now they've made it official. That first paragraph stated the following:
And speaking of opportunity… why not consider buying all ProTeam's Corvettes at cost and the engine (company) that has driven impressive cash flow and profits for over 20 years. Yep! That's right! Fred and I have been banging the sell idea around for several years and we feel confident that capable, informed and interested parties are right here in our database… well poised to acquire the ProTeam business and take it to the next level.
Proteam's collection of classic Corvettes, many with NCRS Top Flight, Bloomington Gold and Triple Crown designations, is truly second to none. Terry is a well known fixture at all the classic Corvette and muscle car auctions and only bids on and buys the best cars. He also doesn't let emotions get in the way and will pass on a Corvette if he feels the bid went higher than his target. Not seeing him working the paddock or sitting front row at a Mecum auction with that detached look on his face will take some time to get used to.
Let's take a look at exactly is included in opportunity:
Inventory – The world's largest collection of over 200 classic Corvettes, with many being beautifully restored to like-new condition and carrying prestigious honors such as the Bloomington Gold Certification, the coveted NCRS Top Flight award, and the Triple Crown designation.
People – A highly competent management team and operating personnel secured by employment contracts with key personnel.
Customer Base – A customer list spans all 50 states and 38 countries around the globe.
Contact Lists – A conventional mailing list that includes 350,000 contacts and an e-mail list that includes 40,000.
Marketing Foundation – Ownership of the ProTeam brand and its extensive bank of marketing concepts and strategies, as well as the ProTeam website (operative since 1995) and more than 60 domain names/URLs.
Facilities & Equipment – Approximately 60,000 sq. ft. of storage buildings to house the inventory as well as the facilities, transportation and capital equipment required to restore, repair, service, maintain and display purchased Corvettes as they arrive.
Processes & Systems – Proprietary sales, service, and accounting systems, policies, and procedures.
Cash Flow – The ongoing annual cash flow generated from the business due to effective application of people, processes, and assets.
It took all of a nanosecond to realize that my pockets are a little light to take advantage of this opportunity. The price needed to buy this world renowned Corvette dealership is undisclosed but if you're interested in finding our more, here are the steps you'll need to take:
Indication of Interest – Email David Rupp with your indication of interest at [email protected]
Pre-Qualification – To pre-qualify, you must provide your credit references, your basic plan for funding a purchase of this magnitude, and your permission to discuss your funding capability with your banker or similar folks at the appropriate time.
Confidentiality Agreement – Once you're pre-qualified, you will be sent a confidentiality agreement.
Information Packet & Bid Instructions – Subsequent to receiving your signed CA, Proteam will send you a detailed information packet on the company as well as further instructions regarding the bid submission process.
We'll be following this story closely and will see if we can get any updates when we see Terry at Mecum's Kissimmee Florida auction in January, assuming that the dealership hasn't changed hands at that time.

Source:
Proteam Corvette
Related:
Proteam Corvette Hosting NCRS Authentication Seminar
When Money is No Object: Terry's Corvette A-List
Technorati Tags:
Corvette | Vette | Proteam | Classic | Dealer | Collection | Sale | Ohio