Over 500 Corvettes are expected to be offered at this year's Bloomington Gold Auction which gets underway this afternoon. While many collectors consign a number of Corvettes to the country's largest Corvette-only auction, this year's event has a special collection of 42 Corvettes that have been hand-picked from the personal collection of Fred and Terry Michaelis of Proteam Corvette fame.
Many of these Corvettes are already Bloomtington Gold certified and represent the best of the best. These low mile, high horsepower and unique-optioned Corvettes will be offered over the two day event. After the jump are some of our favorites.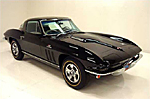 Anyone reading this blog for any length of time knows that I'm a sucker for Black Corvettes. And honestly, what could be better than this 1966 427/425 hp Tuxedo Black Coupe? With just 27,725 miles on the odometer and a super rare unique interior color combination of a Bright Blue dash and carpet with white leather seats, this Corvette offers the buyer the complete trifecta mentioned above. Other options include the M-21 4-speed transmission, F-41 special heavy duty brakes and full documentation includeing the warranty book and Protect-O-Plate. The selling time for this midyear coupe is Saturday at 2:10 pm.
Last year we saw a run on 1953 Corvettes with eight being sold at public auctions throughout the Country with average prices of just under $320,000. Terry and Fred are bringing one of the finest 1953 Corvettes to Bloomington this year which will give us a chance to see if the market is still hot for the first year Corvette. This 1953 is VIN #93 and is considered one of the best 1953's in the World. Like all 1953 Corvettes, this one is Polo White with Sportsman Red interior, has the Blue Flame straight-six powerplant coupled to a Powerglide transmission. Other options include the Wonderbar radiom, E-brake warning light, windshield washers and Courtesy Lights. This 1953 is nationally known with multiple NCRS Top Flught awards and a NCRS Duntov Mark of Excellence Award in 2005. This Corvette is expected to sell at 3:00 pm on Saturday.
With Proteam's reputation for high quality original Corvettes, its kinda interesting to find a resto-rod in Fred and Terry's collection. But like all restor-rod Corvette lovers, they were probably intriqued with having a Corvette that combined with the early model classic looks with late model Chevy performance. This resto-rod was built utilizising a 1959 Corvette Convertible body on a special Paul Newman chassis that was built to hold 1994's LT4 350 ci 300 hp engine and 6-speed transmission. Like the Grand Sports built in 1996, this Corvette has a Grand Sport Admiral Blue exterior and Black leather interior. All the comforts of late model Corvettes are built into this 1959 Corvette include air conditioning, power steering, power brakes, AM/FM stereo with CD changer and halibrand knock-off wheels. The Corvette comes with documenation of the build process and includes a matching gas powered Corvette go-cart. This resto-rod Corvette will be auctioned on Friday.
For a full list of Corvettes being offered at this year's Bloomington Gold Auction, check out the Cars List at Mecum Auctions. Look for lots beginning with X to denote that the Corvette comes from the Fred and Terry Michaelis special collection.
We'll have more coverage of the auction as well as results as soon as their offered.

Source:
Mecum Collector Car Auctions
Related:
Corvette Auction Results: Dana Mecum's Spring Classic
Mecum Offering Collection of Three Serial #1 C1 Corvettes at Bloomington Gold High Auction
Technorati Tags:
Corvette | Vette | Auction | Bloomington+Gold | Collector | Car | C1 | C2 | Resto-Rod |