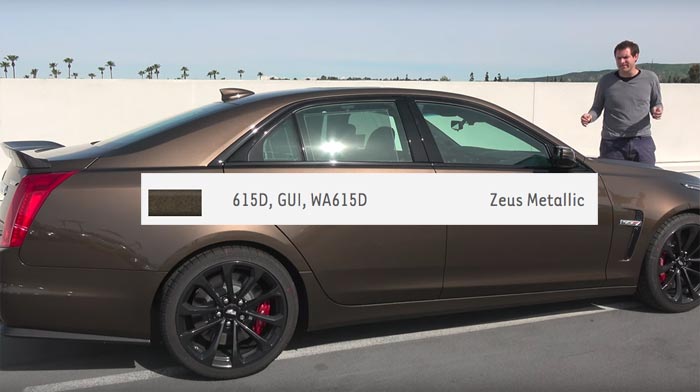 With the 2020 Corvette, Chevrolet will be expanding the available exterior colors with 12 choices instead of the previous 10. Three new colors are expected next year, Zeus Bronze, Rapid Blue, and Accelerate Yellow.
We pretty much had the Zeus Bronze color nailed down after the RPO code leaked from the Canadian dealership earlier this year, but just in case anyone had doubts, a graphic of the paint chip has surfaced and it confirms that the new Corvette color shares the same GM paint codes as Cadillac's Bronze Sand Metallic.
GM uses different names for the same color across its brands but what they have in common is one standard paint code. Zeus Bronze's RPO is GUI and that code also corresponds to the Cadillac color Bronze Sand Metallic. The real confirmation comes from this new paint chip which sports the unique GM paint code WA615D.
We previously shared this screenshot of automobile reviewer Doug DeMuro reviewing the 2019 Cadillac CTS-V in Bronze Sand Metallic and have laid the GUI paint chip on top for comparison. The chip itself is of rather poor quality so keep that in mind and realize that any of the metallic exteriors need to be seen in the sun to be judged fairly.


This week we also caught sight of the paint chip for Rapid Blue and now we only need to see Accelerate Yellow as the third new color expected for the 2020 Corvette.
Earlier in the year, we asked if the world was ready for a Brown Corvette. Thoughts? Let us know in the comment section below or jump in the fray at the MidEngineCorvetteForum.com.

Source:
MidEngineCorvetteForum.com

Related:
[GALLERY] Is the World Ready for a Brown C8 Mid-Engine Corvette?
[POLL] Guess the Color of the C8 Mid-Engine Corvette at the 7.18.19 Reveal
Was the New Rapid Blue Exterior for the 2020 Corvette Leaked?