Garcia, Magnussen win second race of 2017 in No. 3 Chevrolet Corvette C7.R
AUSTIN, Texas (May 6, 2017) – Corvette Racing's Antonio Garcia and Jan Magnussen won their second race of the season in the IMSA WeatherTech SportsCar Championship on Saturday with a GT Le Mans (GTLM) victory in the Advance Auto Parts SportsCar Showdown.
The victory at Circuit of The Americas for the No. 3 Chevrolet Corvette gave the pairing the lead in the GTLM Driver's Championship, as well as moved Chevrolet into first place in the class' Manufacturer's standings. It was the 105th all-time victory for Corvette Racing.
"This was a great result for Antonio, Jan and the No. 3 Chevrolet Corvette C7.R team," said Mark Kent, Chevrolet Director of Motorsports Competition. "Not only has Corvette Racing won three straight races in the IMSA WeatherTech SportsCar Championship, we now lead the GTLM Manufacturer's, Drivers and Team championships. This is a great way to head into our break for the 24 Hours of Le Mans."

Garcia and Magnussen won by 2.498 seconds after the No. 3 Corvette had led by upward of a half-minute before a late-race, full-course caution bunched the field back together for the final five minutes. The duo won at COTA for the second time together, the first coming in 2013. Unofficially, they lead the GTLM Driver's Championship by six points after four of 11 rounds.
Chevrolet and the No. 3 Corvette squad lead the class Manufacturer's and Team standings by six points, as well.
Oliver Gavin and Tommy Milner, winners last month at Long Beach in the No. 4 Mobil 1/SiriusXM Chevrolet Corvette C7.R, saw their race Saturday effectively end at the first corner of the opening lap. Milner couldn't avoid another spinning GTLM car and also was hit from behind after the initial impact.
The No. 4 Corvette Racing crew worked quickly to replace several suspension and brake components at the front and rear. Despite the setback and multiple trips to the garage, the No. 4 Corvette finished seventh in class.

Magnussen avoided the first-turn melee from his sixth-place starting position and settled into fourth for the balance of his stint. The key point in the race came when No. 3 Corvette lead engineer Kyle Millay called in Magnussen to the pits at the 51-minute mark as another car stopped on track. Magnussen reached the pitlane before the caution flag flew and handed off to Garcia, who got a full tank of fuel and fresh Michelin tires.
None of the three leading GTLM cars made the pits before they closed, giving Garcia a huge advantage in track position when the other contenders stopped. Garcia never trailed again.
Corvette Racing's next event is the 24 Hours of Le Mans on June 17-18 from Le Mans, France. It returns to IMSA competition for the Sahlen's Six Hours of The Glen on July 2.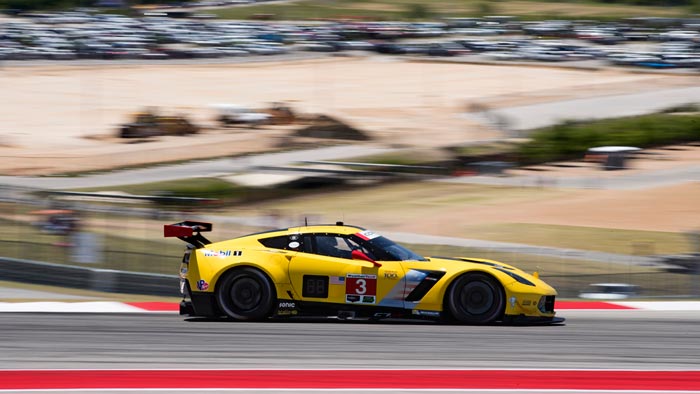 ANTONIO GARCIA, NO. 3 MOBIL 1/SiriusXM CHEVROLET CORVETTE C7.R – GTLM RACE WINNER:

"I think it is the perfect way to come back after what happened at Long Beach. We have had four races this year with zero mistakes by Corvette Racing in any of them. That is what it takes to be there if you have the pace to win. If you don't have the pace, you finish fourth – like what happened at Daytona. Then we took the win at Sebring; that one was a bit unexpected but we really worked for that.

"On pure pace we didn't have the best car. But it is not the first time we have won here not being the fastest. It was a perfect call to pit just before the second yellow. That gave us track position. It feels like we put a lot of pressure on our competitors and they started to make mistakes. I'm very happy with that if that is what it takes. From then I just tried to maintain the gap to second place. We were all just counting down minutes and laps, and seeing how much slower I could go. I didn't care so much about the other car catching me because I don't mind winning by three seconds or 20 seconds. I knew that if there was a late yellow, which we had, I needed to have better tires.

"I don't know if I saved enough tires to be faster than (Alexander Sims), but in a way that was enough. I am very glad and very happy for Corvette Racing. It is a shame the No. 4 car had that contact at Turn One. That was very unfortunate. But again, it is three wins in a row for Corvette Racing. I think no one expected that, but that is what it takes for those results: Zero mistakes."
JAN MAGNUSSEN, NO. 3 MOBIL 1/SiriusXM CHEVROLET CORVETTE C7.R – GTLM RACE WINNER:

"This is a nice way to move on from what happened at Long Beach. But it was a crazy race. So much stuff happened all the way through from Turn One when a few cars got taken out and got in trouble. I got a good start and got clear of all of that. My first stint I was trying to pay good attention to the tires and give good feedback to the team to the changes that needed to be made for Antonio. When he got in, the team made a fantastic call on that pit stop to beat everybody out… again! Then a few cars got in trouble and got some penalties that gave Antonio a massive lead which he was kind of nurturing. I don't think he was pushing too hard, just making sure not to make any mistakes. It is a fantastic result for the team. This is a really, really nice way to head to Le Mans."
OLIVER GAVIN, NO. 4 MOBIL 1/SiriusXM CHEVROLET CORVETTE C7.R – FINISHED SEVENTH IN GTLM:

"Our race was ultimately shaped by what happened at Turn One on Lap One. Some over-optimistic driving by some of our competitors resulted in Tommy having nowhere to go at the first corner. We basically spent the rest of the race getting our Corvette right so we could go out and complete the race. That's the never-give-up attitude within Corvette Racing. The car felt OK at points but we were burning through the tires really quickly. When the car is as damaged as it was at the right-front and left-rear, you have to change out so many parts to get it back out. The crew at Corvette Racing did a great job and worked as fast as they could to get us back out. It was a rough day for us but congratulations to the sister car, Antonio and Jan. They ran a clean, smart race, and that's what you need to do."
TOMMY MILNER, NO. 4 MOBIL 1/SiriusXM CHEVROLET CORVETTE C7.R – FINISHED SEVENTH IN GTLM:

"It looked like one of the Fords and the Ferrari were a little off line at the exit of (Turn) One. There must have been some contact or something like that got the Ferrari coming back across the track. It looked like racing a little bit too hard at the start. We were just unlucky and got the right front into the Ferrari and then we got it from behind from someone unsuspecting as well. It's not the way we wanted to start our race, but the guys did a great job working to get Oliver and I back out so we could get as many points as possible."
DOUG FEHAN, CORVETTE RACING PROGRAM MANAGER:

"When you're good, you're good. When you're good and you're lucky, you can be unbeatable. We had a great Corvette today, a great team effort and good fortune – all that allowed us to bring home a victory in the No. 3 C7.R. I don't think there were many people on the grid that gave us much of a chance. Inside Corvette Racing, however, everybody believes. And today everybody executed. It's unfortunate we lost one of the Corvettes on the first lap, we've been there before. Our experience came in today. Flawless execution is going to get you to the finish line. Once again Corvette Racing got there first."

Source:
CorvetteRacing.com

Related:
Corvette Racing at COTA: Two Corvettes in Thick of Close GTLM Qualifying Battle
[VIDEO] Corvette Racing Seminar from the 2017 NCM Bash
Corvette Racing at Long Beach: Victory for Gavin, Milner in No. 4 Corvette