The Barrett-Jackson road show rolls into south Florida next weekend for their annual Palm Beach sale. Included among the throngs of hot rods, classics, and muscle cars are 6 late model Corvettes being offered by General Motors. Each of the cars was used in various marketing or publicity displays and have been owned by GM since new. The group includes 5 Z06's and 1 Stingray, all of which will be sold at no reserve. They also retain the original MSO paperwork and the balance of their factory warranties.
Here's a quick look at the low VIN C7's crossing the block next weekend.
Lot 675 – 2015 Corvette Z06 VIN 016:
This first-year Z06 hit all of the major shows during its working time. Patrons saw the car in 2015 at the Woodward Dream Cruise and then in 2016 at Corvettes at Carlisle and Mid-America Motorworks' Funfest.
Lot 676 – 2016 Corvette Z06 VIN 010:
The 10th 2016 Z06 sports Torch Red paint and a black interior. It was shown at the Detroit Grand Prix, used in an Associated Press interview and photo shoot, and was also displayed at the 2016 Brickyard 400 NASCAR race.
Lot 677 – 2015 Corvette Z06 VIN 005:
Shark Gray VIN 005 traveled the show circuit in late 2014 and early 2015. During that span it was seen at Road Atlanta, the Milford Proving Grounds, and at the Spring Mountain School of High Performance Driving. In March 2015 it was featured at Espace in New York City.
Lot 678 – 2016 Corvette Stingray VIN 004:
This Blade Silver Stingray features a black interior and a set of GCA polished wheels. The C7 was shown in 2015 at the Brickyard 400 and then was used again in 2016 at the Rolex 24 at Daytona.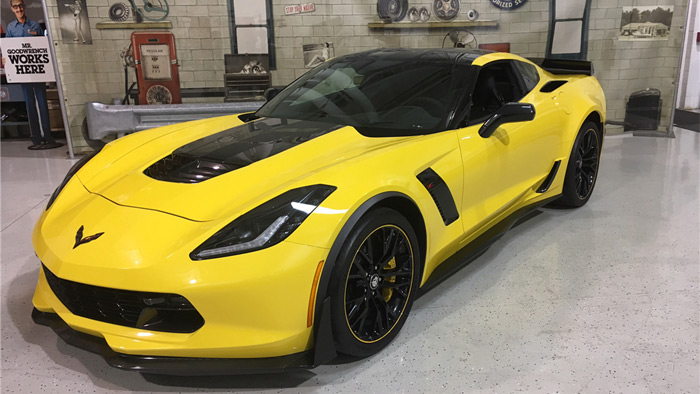 Lot 679 – 2016 Corvette Z06 VIN 002:
Wearing bright Corvette Racing Yellow, this early Z06 was displayed in 2015 at Laguna Seca, the Continental Tire Road Race Showcase, Bloomington Gold, and the Woodward Dream Cruise among other events.
Lot 680 – 2016 Corvette Z06 VIN 001:
This is arguably the most desirable Corvette from the GM collection to be sold in Palm Beach. Bearing coveted VIN 001, the Long Beach Red coupe was shown at Bloomington Gold in 2015 and again in 2016.

If you're looking for a chance to score some potentially future collectable Corvettes, you'll get your opportunity next weekend in Palm Beach. It will be interesting to see if their low VIN's and show car status will command a higher price or if they'll bring basic used C7 money.
Barrett-Jackson's 15th annual Palm Beach auction takes place April 6th-8th. Velocity and Discovery will have live TV coverage throughout the weekend.

Source:
Barrett-Jackson.com

Related:
The Top 12 Corvette Sales of Barrett-Jackson Scottsdale 2017
CERV 1 Heading Home to the Heritage Center As GM Confirms Purchase
General Motors Just Bought CERV 1 at Barrett-Jackson for $1.32 Million