So you just watched the 24 Hours of Le Mans and now you want to go racing. Here's a great vintage Corvette racer for sale on Craigslist in the Florence (Eugene), OR area that's all set up and ready to go.
The 1966 Corvette is listed as a SCCA B-Production racer and it advertises the not-street-legal car as having a great racing history.
The Corvette is powered by a built solid-lifter 327 cubic inch motor which is joined with a Borg Warner T-10 transmission. The rear-end has 4:11 gears and positraction so that burnout you do after you've won your race will be memorable.
Inside the Corvette, the regular interior has been stripped and only the functions needed to go racing were put back in. The roadster has a roll bar to protect the driver and interestingly, the engine compartment also features structural reinforcements as well.
The Corvette has previously raced in IMSA, USRRC and SCCA-sanctioned races at Laguna Seca and Sears Point. It last saw action in 2013 at a vintage SCCA race in the midwest.
The Corvette as was first posted 12 days ago and the price on the car is $65,000. You can see the ad on Craigslist.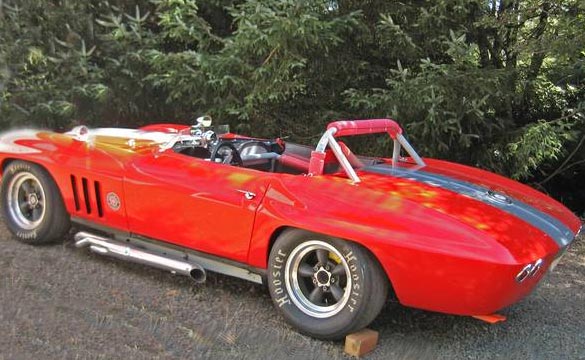 Source:
Craigslist via BringaTrailer.com

Related:
Al Unser Jr., Peter Klutt and a L88 Corvette Win the Legends Pro-Am at Indy
The BLOCK Features Roberto Berdiel's 1967 Corvette Racer
Corvettes on eBay: Vintage 1964 Corvette Racecar