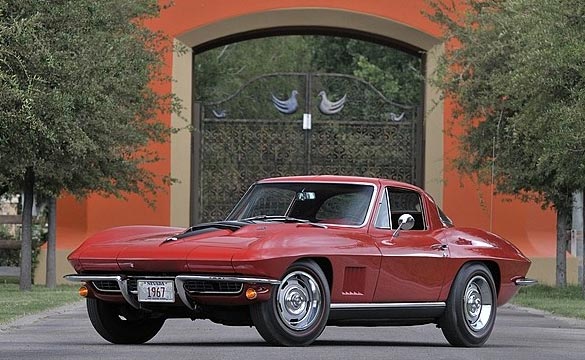 Dana Mecum's favorite car has to be the Chevrolet Corvette, especially if solely based on the number of outstanding high dollar cars that were hammered down during the last four days of his third Dallas auction.
It was clearly evident that Corvettes carried the four-day auction and were the car of choice for collectors where a new record price was paid for a Corvette ($3.2M, a 1967 L88, fully documented former NHRA record holder and the only '67 L88 to retain its original body panels).
Of the 172 Corvettes that crossed the block 106 were sold, a 61% sell through rate, for a combined hammer price of $9.106M. Though some buyers were able to grab some excellent bargains during the first two days of the sale, the last two days saw spirited bidding and prices well above average. Almost twenty Corvettes were hammered down above $100K. It seemed as though most restored second generation cars were selling between $100K to $150K and if the car had any rare options it was selling close to or above $200K.
It should be noted however that there were some outstanding and historically significant Corvettes being offered many of which, like the record setting '67 L88, were from the Buddy Herin collection. We recapped some of the important Corvettes being offered last week.
The rare 1957 "Airbox" (Lot S121), one of only 43 produced, sold for $290K while the 1961 "Big Brake" fuelie (Lot S126) brought $150K. The award winning red 1963 Z06, (Lot 125) one of 199 Z06's produced for the entire C2 production run, sold for $250K. A 1967 Bloomington Gold Benchmark Rally Red 427/435 convertible (Lot 204.1) was also among the top ten cars sold in Dallas bringing $205K which tied another 1967 Red 427/435convertible (Lot S141). Almost every big block C2 brought $100K or more.
Most of the Corvettes that crossed the block on Friday and Saturday were of exceptional quality and subsequently carried high reserves. Though the majority of sellers' expectations were exceeded, over sixty cars were not hammered and went to "the bid goes on" area where buyers and sellers often can come to a compromised agreement on price.
One of the premier cars of the auction, the last documented L88 produced (lot S130.1), a 1969 Fathom Green C3, failed to meet reserve even though the car had been bid to $430K and had been purchased earlier in the year at another auction for $280.5K, not a bad return for eight months but apparently not good enough. But that was not a unique occurrence, Lot 167, a 1967 black, 427/435 convertible, fully documented and restored was bid to $275K; Lot F235, a 1967 427/435, Marina blue convertible was bid to $200K, and Lot S188, a 1966 "big tank" coupe was bid to $170K and all failed to meet the sellers' reserves.
Based on the results of Mecum's Dallas auction, owners of first and second generation Corvettes should be ecstatic based on the continued upward spiral in prices on those cars.
High quality, original, numbers matching, restored first and second generation Corvettes are bringing well above $100K and several with rare options are getting $200K or more in today's market with no evidence of those prices falling in the near future. Of the Dallas auction's top ten sellers four were Corvettes, all bringing in excess of $200K.
Dana Mecum said in an interview the Dallas results were great and that he actually needs a larger facility, with more space to park consigned cars, to help him meet the demand for an expanded auction in the future. I'm sure based on the results of this year's event he will be looking for ways to make that a reality and I am also sure that based on the quality level of the cars at this year's event, auto enthusiasts and especially Corvette enthusiasts, would welcome that expansion.

Rick Tavel writes about automobiles with an emphasis on Corvettes and the hobby in general. You can see his website at revenantrt.blogspot.com

Source:
Mecum Auctions

Related:
[VIDEO] 1967 L88 Corvette Convertible Sells for Record $3.2 Million at Mecum Dallas
Corvettes on eBay: LS-Powered 1954 Corvette Restomod
Corvette Auction Preview: Mecum Offers Museum Quality Corvettes in Dallas